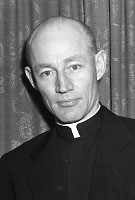 Father Robert L. Mackesy, MM
Born: May 15, 1917
Ordained: June 15, 1947
Died: July 24, 2007
Father Robert L. Mackesy died on July 24, 2007 at St. Teresa's Residence after a long illness. He was 90 years old and a Maryknoll priest for 60 years.
Father Robert LaSalle Mackesy was born on May 15, 1917, in Lynn, Massachusetts, one of seven children of William J. and Clara Carmody Mackesy. His cousin was Rev. William Mackesy, M.M., who died in 1996. Father Mackesy entered Maryknoll at the Venard in September 1938, received a BA in Philosophy in 1941 and was ordained at Maryknoll, New York, on June 15, 1947.
After ordination, Father Mackesy was assigned to the United States and did promotional and vocational work in Chicago, Los Angeles and Houston for nine years.
In 1956, Father Mackesy was assigned to the Maryknoll Mission Region of Hawaii and to Sacred Heart Church in Honolulu. During his years in Hawaii, he worked in various parishes, including Immaculate Conception in Kona, St. Anthony's in Papaaloa, where he was pastor, and in Our Lady of Lourdes in Honokaa on the island of Hawaii. His assignment in Honokaa was the most lengthy and most productive of his missionary years. As pastor, he supervised the construction of an all-purpose building for the parishioners' use, including classrooms for catechetics. He instituted a chartered school bus service to shuttle children of elementary and high school age to this facility, the only one of its kind on the island. With the help of the sugar plantation workers and other volunteers, Father Mackesy ran the annual Honokaa Fair, an annual fund-raiser for the maintenance of three cemeteries and several parish facilities, as well as for the Sisters' convent and some of their expenses.
In January 1975, Fr. Mackesy was assigned to the United States Region for health reasons. During part of this time he served at St. Joseph's Parish in Pepperell in the Boston Archdiocese. In August 1978, Father Mackesy was assigned back to Hawaii and to Annunciation Church, a small mountain-top parish in Kamuela, on the island of Hawaii.
In April 1983, Father Mackesy was assigned to the Special Society Unit but remained at Annunciation Parish until 1985 when he returned to the States to live in Lynn, Massachusetts. He resided in Lynn until February 1999, when he moved to St. Teresa's Residence and in February 2001 was assigned to the Retirement Community.
Father Mackesy was especially interested in the human, moral, and political aspects of Central America and always kept the Superior General informed with newspaper articles regarding the issues. His poetry was frequently published in Maryknoll News.
Wake services were held at 4:30 p.m. on July 30, 2007 at St. Teresa's, and at 7:30 p.m. in Queen of Apostles Chapel at Maryknoll Center where Father Joseph McGahren officiated and Brother John Blazo read the biography. Mass of Christian Burial was concelebrated in Queen of Apostles Chapel on July 31, 2007 at 11:00 a.m. Father Clyde Phillips was Principal Celebrant and Father George Ratermann Homilist. Burial followed in Maryknoll Society Cemetery with Father Clyde Phillips conducting the graveside service.