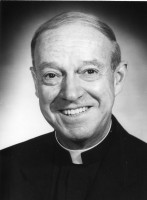 Father Robert R. Lefebvre, MM
Born: September 4, 1930
Ordained: June 8, 1957
Died: May 28, 2016
Father Robert R. Lefebvre died on May 28, 2016 at Mission St. Teresa's, Maryknoll, New York.  He was 85 years old and a Maryknoll priest for 58 years.
Robert Roland Lefebvre, son of Ernest J. and Gabrielle M. Lefebvre, was born September 4, 1930, in Manchester, New Hampshire.  He has one sister, Mrs. Constance C. Doyon.
He attended St. Mary's School in New Britain, Connecticut and St. Thomas Preparatory in Bloomfield, Connecticut.  He also attended Maryknoll College in Glen Ellyn, Illinois in 1950 and Maryknoll Seminary, Ossining, New York from 1950 to 1957 where he was ordained on June 8, 1957.  After ordination, Father Lefebvre was assigned to the Maryknoll Mission Region in Africa, serving in Tanzania, East Africa.  There, Father Lefebvre built a maternity hospital and served in a number of parishes in the Diocese of Shinyanga.
In 1972 he took one year of C.P.E. training in the United States.  After some time off, Father Lefebvre was assigned to Indonesia, and represented the Indonesia Episcopal Conference on the Island of Galang where the Vietnamese "boat people" were sheltered after escaping the Communist government.  Father Lefebvre's task was to manage the financial donations forwarded through the Bishops Conference.  Shortly after this activity, Catholic Relief Services requested his assistance to cover the East Timor conflict for them with regard to supplies of food and medicines. On his way to East Timor, his plane made a stop in Bali for refueling.  While there, the island was hit by an earthquake.  After conferring with the Catholic Relief Services office in New York he was advised to investigate damages and help begin a program to assist the victims of the quake.
From 1976 until 1981 Father Lefebvre served as the English secretary to Archbishop Vincenzo Farano, the Apostolic Nuncio to Indonesia.  While in Indonesia, he also served in St. John the Evangelist parish until 1981.  In 1982 he was appointed to serve in the parish of St. James the Great in the Diocese of Bogor.  Between 1983 and 1989 he developed two parishes in the Diocese of Bogor, serving as Pastor to both.
Father Lefebvre was recalled to the United States and assigned to the Development Department in 1990.  He served as Director of the Maryknoll Development House in New York City, and was later appointed Director of the Eastern Area.
In June 1994, Father Lefebvre was appointed Procurator General for the Maryknoll Society with residence in Rome, Italy.  In his capacity as Procurator General, he acted as the Society's official representative to the Holy See and to the various Congregations, Councils, and Commissions of the Roman Catholic Curia of the Vatican in Rome.
Father Lefebvre completed his term as Procurator General in May 1997.  He returned to the United States, and was once again assigned to the Development Department.  In September 1997 he was assigned to St. Anne's parish on the island of Eleuthera, where he served for one year before being transferred to St. Paul the Apostle parish in the Archdiocese of Nassau, Bahamas.  In March 1999 Father Lefebvre joined the Retirement Community.  He remained active, serving as a Judge/Advocate on the Metropolitan Marriage Tribunal until April 2006, and continuing his ministry to St. Paul the Apostle parish until July 2009 when he returned to Maryknoll, New York.  While at the Center he helped out in a local parish until he took up residence at Mission St. Teresa's in 2013.
A Rosary and wake service was held at 4:00 p.m. on June 1, 2016 at Mission St. Teresa's.  The body was received at the Maryknoll Society Center at 9:30 a.m. on June 2, 2016.  The biography was read by Father J. Ernest Brunelle.  Mass of Christian Burial followed at 11:00 a.m. and was concelebrated in Queen of Apostles Chapel.  Father John Keegan was Principal Celebrant and homilist.  Burial followed in the Maryknoll Society Cemetery with Father Russell Feldmeier conducting the graveside service.