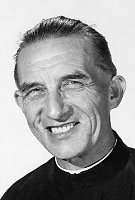 Father Robert R. Sprinkle, MM
Born: September 12, 1906
Ordained: June 16, 1935
Died: December 17, 2003
Father Robert Russell Sprinkle died peacefully in the evening of December 17, 2003 at St. Teresa's Residence. He was 97 years old and a Maryknoll priest for 68 years.
Robert Russell Sprinkle was born in Hamilton, Ohio on September 12, 1906, son of Jeremiah and Mary White Sprinkle. He had four brothers and one sister. Father Sprinkle, who was familiarly called by his middle name, Russell, attended Holy Trinity School and graduated from Middletown High School in 1925.
As a young man he had gradually made up his mind, as a result of his reading, that he wanted to be a missioner and go to China. He had never heard of Maryknoll until his pastor told him of this organization that prepared and sent missionary priests and Brothers to the Orient. He entered Maryknoll at the Venard in September 1926. After one year there he spent two years at Los Altos and then studied at Maryknoll Seminary in New York, where he was ordained on June 16, 1935, a member of the last class to be ordained by the Society's Co-Founder, Bishop James Anthony Walsh.
After ordination, Father Sprinkle was assigned to Wuchow, South China. During World War II he earned the unenviable title of  'the most bombed priest in China,' managing to escape numerous air raids with only a fractured jaw. After the war's end he took over the Pingnam mission where he opened a dispensary. Treating everything from skin diseases to malaria and cholera, he was saddened by the suffering he encountered and the fact that he possessed so little to work with.
In 1951, he was imprisoned by the Chinese Communists for five months and spent another eight months under house arrest before his expulsion from the China mainland in 1952. That same year he was assigned to Formosa (Taiwan). He employed local artists to design the sanctuary of the Chu Shan church in Taiwanese folk style. He was very interested in the schooling and other activities of youngsters, and encouraged many to enter seminary or religious life.
Father Sprinkle made a major contribution to the Maryknoll Taichung Language School's dictionary project. He was responsible for the original gathering of material that resulted in the publication of Taiwanese-English and English-Amoy dictionaries that are still widely used. Father Sprinkle was assigned to the Special Society Unit in July 1979, but continued to live in Lu Ku, in the Diocese of Taichung, Taiwan where he provided parochial service until September 2000, when he returned to the United States and took up residence at St. Teresa's.
Wake services were held at 4:30 p.m. on December 22, 2003 at St. Teresa's, and at 7:30 p.m. in Queen of Apostles Chapel at Maryknoll Center where Father Clyde Phillips officiated and Father John Keaney read the biography. Mass of Christian Burial was concelebrated in Queen of Apostles Chapel on December 23, 2003 at 11:00 a.m. Father John Moran was Principal Celebrant and Father James Manning homilist. Burial followed in Maryknoll Society Cemetery with Father Larry Lewis conducting the graveside service.