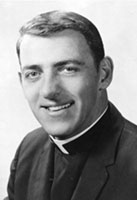 Father Robert V. Tobin, MM
Born: September 12, 1927
Ordained: June 8, 1957
Died: April 12, 2013
Father Robert V. Tobin died on April 12, 2013 at St. Teresa's Residence. He was 85 years old and a Maryknoll priest for 55 years.
Robert Vincent Tobin was born in Marion, Ohio, on September 12, 1927, son of Maurice and Clara Mulvey Tobin.  He had three brothers and five sisters.  After graduation from St. Mary's High School in Marion, Father Tobin spent two years with the United States Navy before attending the University of Dayton, where he was a member of the University basketball team.  He joined Maryknoll in August 1949, studying Latin at the Venard in Clarks Summit, Pennsylvania.  He received his Bachelor of Arts Degree in Philosophy at Maryknoll College, Glen Ellyn, Illinois and was ordained a priest at Maryknoll, New York on June 8, 1957.
Father Tobin was assigned to the Maryknoll Mission Region in Peru, working in Lima, Puno, and Nazca, at the request of Bishop Marling, where he helped the Jefferson City, Missouri priests get started in mission.  In 1963 he was assigned to the United States Region and to development work, first in the Seattle, Washington area, and then, in 1964, in the Cincinnati area.  In 1965 he was named Director of Development in the Cincinnati area.
In 1970 Father Tobin was reassigned to Peru, working in the Guadalupe Parish in Lima.  He was once again assigned to the United States Region in 1974, when he was named Director of Development in the Los Angeles area.  Father Tobin's next assignment in July 1976 was to the Venezuela Region where, at the request of the Cardinal of Bogota, Colombia, he began a new community and parish in the south of Bogota.  "We must be like the first Missioner St. Paul, 'temporary, flexible, and mobile'," said Father Tobin in 1982, when turning over to the Archdiocese of Bogota, Colombia the newly founded Parish of Santa Magdelena Sofia.  During his years in Colombia, he was also Director of the Marriage Encounter for the local Deanery of 32 parishes.
After a sabbatical, during which he spent time studying at the Mexican-American Cultural Center in San Antonio, Texas, Father Tobin was assigned in July 1983 to the Maryknoll Mission Region in Mexico, where he served in the Parish of San Sebastian in Merida, Yucatan.  In November 1997 Father Tobin was granted the status of retired Maryknoller, but continued to help in San Sebastian Parish and administered the Rev. Robert V. Tobin Educational Trust, established, in October 1990, by his classmates from the University of Dayton for needy students in Bogota, Columbia.  Father Tobin joined the Retirement Community in October, 2007 and continued living at the Maryknoll House in Merida, Yucatan until its closing and his move in January 2012 to the Maryknoll Residence in Los Altos, California. Illness necessitated his move to Mission St. Teresa in October 2012.
Wake services were held at 4:30 p.m. on April 15, 2013 at St. Teresa's, and at 7:30 p.m. in Queen of Apostles Chapel at Maryknoll Center where Father Kenneth Sullivan officiated and Brother Andrew Marsolek read the biography.  Mass of Christian Burial was concelebrated in Queen of Apostles Chapel on April 16, 2013 at 11:00 a.m.  Father  Kevin J. Hanlon was Principal Celebrant and homilist.  A memorial Mass was held in Ohio and burial of Father Tobin's cremains took place at the Shrine of Our Lady of Guadalupe in Mexico City, Mexico.
Each Maryknoll priest is requested to offer Mass for the repose of the soul of Father Tobin; all Maryknollers are requested to remember him in their private and public prayers.