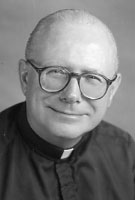 Father Robert W. Donnelly, MM
Born: July 11, 1932
Ordained: June 13, 1959
Died: September 8, 2013
Father Robert Donnelly died at Phelps Memorial Hospital, Sleepy Hollow, New York on September 8, 2013. He was 81 years old and a Maryknoll priest for 54 years.
Robert William Donnelly, one of two sons, was born in Brooklyn, New York on July 11, 1932 to Hugh and Mary Brown Donnelly.  His mother died when he was 5 years old, and he was raised by two aunts.  He attended Our Lady of Angels Elementary School and St. Michael's High School in Brooklyn.  It was there that he became interested in the foreign missions through reading the Field Afar.  When he was a senior at St. Michael's, he decided that Maryknoll was his vocation choice and entered on June 13, 1950 at Maryknoll Seminary in Scranton, Pennsylvania.  His father died the same week.  Father Donnelly was ordained on June 13, 1959 and assigned to the Japan Region.
After language studies in Tokyo and Kyoto, Father Donnelly was assigned as Assistant Pastor at Ueno, Hikone, Kuwana and Kusatsu Parishes.  After returning to the States in 1965 on furlough, he was assigned to Hawaii.  He began work at St. Joseph's Parish in Hilo, where he taught at St. Joseph's High School for four years.  After the assignment in Hilo, he served in St. John the Baptist Parish in Honolulu.  He was later named pastor of Good Shepherd Parish in Honomu.  After several years there, he was appointed to Sacred Heart Parish in Honolulu.  From there he became pastor of St. Theresa Parish in Mountain View on the Big Island of Hawaii.  During that time, Father Donnelly also attended the Spiritual Renewal Program in 1983 in The Holy Land.
Returning to the Big Island, he continued as pastor at St. Theresa's for eight years until he was named pastor of Sacred Heart Church in Pahoa.  Finishing his assignment there, he took a six-month sabbatical, studying in Rome.  After this period of study, he was assigned to the Development Department in January of 1991.  Father Donnelly spent a year and a half at the Chestnut Hill house and helped out in Denver until in 1992 when he was sent to the St. Louis Development house until October 1994.
Returning to Hawaii, he was named associate pastor at Sacred Heart Church in Honolulu.  After that he was named pastor at St. Benedict Church in Honaunau.  He was responsible for maintaining the Church, which is a national treasure, famous for the paintings on the walls, which were painted by a Belgian priest in the last century.  He oversaw the hundredth anniversary of the founding of the church.  In 2004 he retired, but continued to be active in assisting the liturgical needs of Sacred Heart Parish, Honolulu.
In June 2007 Father Donnelly took up residence at Maryknoll Center, New York and for many years helped out in local parishes.  He was assigned to the Retirement Community in April 2009.
Wake services were held on September 12, 2013 at St. Teresa's and in the Queen of Apostles Chapel at Maryknoll Center where Father Michael Duggan officiated and Brother Thomas Hickey read the biography.  Mass of Christian Burial was concelebrated in Queen of Apostles Chapel on September 13, 2013 at 11:00 a.m.  Father Kevin Hanlon was Principal Celebrant and homilist.  Burial followed in Maryknoll Society Cemetery with Father Edward Dougherty conducting the graveside service.