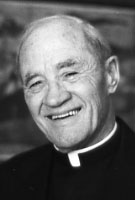 Father Robert W. Greene, MM
Born: June 12, 1911
Ordained: June 16, 1937
Died: September 11, 2003
Father Robert Greene died in the evening of September 11, 2003 at St. Teresa's Residence. He was 92 years old and a Maryknoll priest for 66 years.
Robert William Greene was born in Jasper, Indiana, on June 12, 1911, son of Bruce and Ida Mae Henry Greene. He had one brother, Henry. From his earliest years, he felt a strong desire for the priesthood. As a candidate for the Archdiocese of Indianapolis, he studied at Jasper Benedictine Academy, St. Meinrad's Junior Seminary and St. Meinrad's Major Seminary. He entered Maryknoll Novitiate at Bedford, Massachusetts on September 1, 1934, and three years later, on June 16, 1937, was ordained a priest at Maryknoll Seminary in Ossining, New York.
At ordination, Father Greene was assigned to the Maryknoll mission in Kweilin, Kwangsi, South China. Passing through Shanghai to Kweilin, he witnessed and survived the bombing of Shanghai by Japanese warplanes. He arrived in Kweilin in September of 1937 where he remained all during World War II, surviving Japanese bombings and helping the personnel of the U.S. Army Air Corps stationed in the area. Father Greene made rapid progress in his Southern Mandarin language studies and soon spoke it very well. He served as pastor in the Pinto and Yungfu missions.
After a Home Leave in 1945, Father Greene returned to Kweilin and was appointed pastor of the Tungan mission in March of 1947 where he ran a well organized parish converting many. The Chinese Communists took over South China in 1950 and on October 15, Father Greene was confined to his mission under house arrest. He was allowed out of his mission for 20 minutes every three days to buy food. He offered his Mass when the guards were asleep. In early 1952, he was arrested, accused of being a bandit, and subjected to incessant, harsh questioning and torture for many days and nights. He was banished from China and crossed into Hong Kong under guard on April 13, 1952.
Father Greene returned to Maryknoll Center in New York for a period of recuperation. On April 27, 1953, he was appointed Assistant Spiritual Director of Maryknoll Seminary. Father Greene became involved in giving interviews, lectures and speeches in many Catholic and secular centers. His mission and prison experiences were graphically published in a book entitled "Calvary in China" in 1955. His story was also told in a television program entitles: "Crossroads: Calvary in China".
As a returned missioner with a great story to tell, in April 1954 he was assigned to the Development Department and was an outstanding public relations man for the Society. For 40 years, he served fruitfully in the Development Department Houses in Philadelphia, Detroit and Cincinnati. Father Greene was assigned to the Special Society Unit on April 15, 1991, while continuing to do Development work in the Cincinnati area. In August 2000, he took up residence in St. Teresa's and was assigned to the Retirement Community in February 2001.
Wake services were held at 4:30 p.m. on September 15, 2003 at St. Teresa's, and at 7:30 p.m. in Queen of Apostles Chapel at Maryknoll Center where Father Leo Shea officiated and Father. Lawrence Lewis read the biography. Mass of Christian Burial was concelebrated in Queen of Apostles Chapel on September 16, 2003 at 11:00 a.m. Father Leo Shea was Principal Celebrant and Father John King homilist. Burial followed in Maryknoll Society Cemetery with Father John Barth conducting the graveside service.