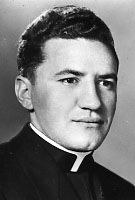 Father Rocco P. Franco, MM
Born: December 3, 1921
Ordained: June 12, 1948
Died: May 23, 1957
Rocco P. Franco was born on December 3, 1921 in Brooklyn, the son of Francesco and Concetta Franco. He attended St. Rosalia Grammar School in Brooklyn and then St. Francis Preparatory School. After leaving high school he entered the Venard in September of 1939.
He was ordained on June 12, 1948 and his first assignment was to Kongmoon in July of that year. After his first year of language study he was assigned to Hoingan Parish as assistant to Fr. Joseph Lavin. Put under house arrest when the Communists came, both priests were eventually transferred to Canton in March of 1953. From there Father Franco was taken to the border of Hong Kong where he was released on April 24, 1953.
After five months in the Crown Colony Father Franco was recalled to the states and assigned to Transfiguration Parish in New York's Chinatown. There his knowledge of Cantonese was supplemented by his familiarity with Italian. He was a much loved priest who made himself available to all.
In May of 1956 Father was re-assigned to the Orient, this time to our mission of Taichung, Formosa. He entered the language school upon his arrival in late summer to study Taiwanese.
On the evening of May 23, 1957, Father Franco died due to injuries sustained in a motorcycle accident. The funeral Mass was celebrated by Msgr. William F. Kupfer, M.M. in Taichung. Father Franco was buried in the land and among the people he loved.