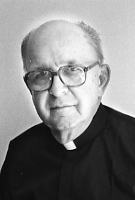 Father Roman A. Kasprzak, MM
Born: June 11, 1923
Ordained: June 16, 1951
Died: February 10, 2005
Father Roman Kasprzak died on February 10, 2005 at St. Teresa's Residence, Maryknoll, New York. Father Kasprzak was 81 years old and a Maryknoll priest for 53 years.
Roman Anthony Kasprzak was born on June 11, 1923 in Milwaukee, Wisconsin, only son of Valentine Kasprzak and Hedwig Atkielski. His one sister, Sister M. Valentine Kasprzak, is a member of the School Sisters of Notre Dame. He attended St. Mary of Czestochowa Parochial School and graduated from Marquette University High School in June 1941. He worked for a year at Allis-Chalmers Manufacturing Company and then entered Maryknoll Junior Seminary (Venard), Clarks Summit, Pennsylvania, on August 13, 1942. He attended the Maryknoll Novitiate in Bedford, Massachusetts, and in June 1950 he received his Bachelor of Arts degree in Theology at Maryknoll Seminary, New York. Roman was ordained a Maryknoll priest in his home parish by his uncle, Bishop Roman A. Atkielski, Auxiliary Bishop of Milwaukee Diocese on June 16, 1951.
After ordination Father Kasprzak was assigned to Maryknoll's mission in Yucatan, Mexico, where he has served his entire mission ministry. He gained a good knowledge of Spanish and Mayan languages and worked in several rural parishes among the Mayan Indians. He was well liked by the Indians, very approachable and good with the youth. He spent his first five years as an assistant pastor in the remote mission of Carillo Puerto, Quintana Roo, accessible only by light plane or a 3-day overland trip on horseback. The parish had some 35 smaller villages under its jurisdiction, all scattered through the jungle area. The main task was to build those areas into thriving and vigorous Christian communities. Father dedicated great energy to establishing catechetical  programs, administering the Sacraments, forming various apostolates among the people, and building and repairing dozens of chapels. Groups of native catechist nuns helped in this work in the villages.
After five years Father Kasprzak was assigned to the more populous northern section of Yucatan, where Maryknoll had parish communities more Catholic in belief and practices than in the southern sections, and with a greater number of outstations. In brief, Father Kasprzak is a veteran of several such parishes during his forty-six years in Yucatan and has come to know quite a bit about this extensive area, the people and their customs and practices.
In 1978 for reasons of health as recommended by his doctor he was granted a two-year leave of absence from Society assignment to work in the Austin, Texas Diocese, while still attached to the Mexico Region. He had taken a summer course in video technology at St. Louis University, Columbia, Missouri and with a team of lay helpers engaged in the production of instructional videocassettes for use in the diocese by some of the various apostolate programs. Father Kasprzak says his "whole ministry was parochial in scope, mostly in Mayan Indian communities, in villages, and in the poorer sections where the people are less educated in the faith and therefore defenseless against the many current problems that have to be faced in today's world." He says, "the demand is always present for constant instruction, attention, service and worship."
In 1981 he opened a new parish in Teabo, Yucatan, which is about a one and a half hour drive from Merida. He lived in a house that is also an historical monument. He carried on his pastoral grass roots ministry, while at the same time continuing his work as Regional Planning and Research Coordinator. Father Kasprzak entered the Special Society Unit in November 1995. He continued working in St. Sebastian's Parish in Merida, where he was in charge of three of the chapels in the outlying areas and the communities of faithful living there. He finished a major building project and constructed a parish church and rectory, turning over the new Our Lady of Guadalupe parish to a native diocesan priest.
Father Kasprzak took up residence at St. Teresa's at Maryknoll in May 1999 and became a member of the Retirement Community in September 2000.
Wake services were held at 4:30 p.m. on February 15, 2005 at St. Teresa's, and at 7:30 p.m. in Queen of Apostles Chapel at Maryknoll Center with Fr. John J. Moran officiating and Brother John Blazo reading the biography. Mass of Christian Burial was concelebrated in Queen of Apostles Chapel on February 16, 2005 at 11:00 a.m. Father Joseph J. McGahren was Principal Celebrant and homilist. Burial followed in Maryknoll Society Cemetery with Father John C. Sivalon conducting the graveside service.