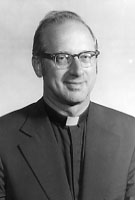 Father Roman G. Theisen, MM
Born: April 23, 1927
Ordained: June 12, 1954
Died: September 19, 2002
Father Roman George Theisen died on September 19, 2002 at St. Teresa's Residence. He was 75 years old and a Maryknoll priest for 48 years.
Roman was born on April 23, 1927, in Detroit, Michigan, son of Roman and Mary Theresa Theisen. He had two brothers, Charles and Leon. He attended St. Alphonsus Parochial School in Dearborn, Michigan, and studied for three years at the University of Detroit High School before entering Maryknoll Apostolic College (Venard), Clarks Summit, Pennsylvania on September 2, 1944. On October 10, 1944 he wrote of his vocation to Maryknoll, "I remember that on my application to Maryknoll I wrote that I first became interested eight years ago because I definitely know that I was in the second grade and I and my brothers were filling dime cards sent out by Maryknoll. However, I think the influence having the most effect on me has been the Field Afar, coupled with the encouragement of my parents." At Maryknoll Seminary in Ossining, New York, he obtained his Bachelor of Arts degree in Philosophy in June 1950, and his Master of Religious Education in June 1954. He was ordained a priest with his classmates in Annunciation Chapel at the Maryknoll Sisters Motherhouse, Ossining, on June 12, 1954.
Following ordination Father Theisen was assigned to Collegio Maryknoll in Rome, Italy. He earned his Doctorate degree in Sacred Theology at the University of St. Thomas Aquinas (Angelicum) in June 1956. In 1957 he received a Certificate in French at the Institute du Pantheon, Paris, France. On July 1, 1957 he was appointed Professor of Moral Theology and Canon Law at Maryknoll Seminary in Ossining. During the summer of 1959 he studied Business Law at the University of Detroit.
On June 12, 1960, Father Theisen was assigned to the Maryknoll Mission Region in South Korea. After language studies he was appointed  assistant Pastor of the Pou Pyeng Parish, Diocese of Inchon. He later became Chancellor of this Diocese, and in July 1964 was appointed founding Pastor of the Pou Pyeng II Dong Parish. Besides his pastoral and chancery work, he was Chairman of the Liturgy Commission for the Diocese of Inchon.
In 1972 Cardinal Stephen Kim asked Father Theisen to establish the Church Tribunal, the first in Korea, for the Archdiocese of Seoul, which also serves six suffragan dioceses. Since then he has acted as Presiding Judge of this Tribunal, while engaging in other work. In April, 1973, Father Theisen was appointed Pastor of the Pengyong Island Parish, which includes 3 islands in the Yellow Sea, with 6,000 Catholics and 16 outstations. This assignment included direction of the St. Andrew Kim Hospital.
In 1975 he was appointed founding Pastor of the Kan Sek Dong Parish. He was awarded a Certificate of Honorary Citizenship by the Mayor of Inchon for his relief work among the poor there. He also taught Canon Law at the Seoul Major Seminary during this time and composed a First Communion book, written in the Korean language, which became the most used First Communion text for children in Korea, being used by over 200,000 children. In January 1979 Father Theisen attended the Institute of Continuing Theological Education at the North American College in Rome, Italy. In 1981 he was appointed founding Pastor of the Kyei San Dong Parish.
In 1987 Father Theisen took sabbatical leave to obtain a Master's degree in Applied Spirituality from the University of San Francisco (1990). He also studied Clinical Pastoral Education while working as Chaplain to psychiatric patients at St. Francis. He received Certification as Chaplain by the National Association of Catholic Chaplains in 1988, a Certification he renewed in 1994. As Chaplain he turned his attention to patients with Parkinson's Disease, a malady he himself suffered since 1992.
In October, 1988, Father Theisen was appointed founding Pastor of the Yokkok 2 Dong Parish. On October 1, 1989 he became Assistant Regional Superior of the Korea Region and was re-appointed on October 1, 1992. In 1994, he continued as Pastor of the Yokkok 2 Dong Parish in the Inchon Diocese and as Presiding Judge of the Seoul Archdiocesan Tribunal. He was appointed Regional Superior of the Korea Region on October 1, 1995, and served in that position for three years.
Father Theisen loved Maryknoll and his vocation as a missionary Priest. In 1998 he wrote a book titled "People I Love." In the opening of the book he writes "The good Lord has blessed me with his love and with the love of many good friends both in my homeland and in the Field Afar. I thank God for his gift of love and you, my friends for yours. I love you." Father Theisen's book shares stories of many people that have touched his life as a Maryknoller and missionary Priest.
Wake services were held at 4:30 p.m. on September 25, 2002 at St. Teresa's, where Rev. John Hudert officiated and Rev. Al Keane read the biography, and at 7:30 p.m. in Queen of Apostles Chapel at Maryknoll Center where Father Raymond F. Sullivan officiated and Father Philip W. Mares read the biography. Mass of Christian Burial was concelebrated in Queen of Apostles Chapel on September 26, 2002 at 11:00 a.m. Father Gerard E. Hammond was Principal Celebrant and Father Martin J. Lowery homilist. Burial followed in Maryknoll Society Cemetery with Father Jeremiah R. Burr conducting the graveside service.