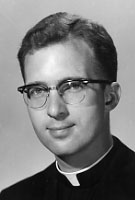 Father Ronald J. Potter, MM
Born: March 12, 1934
Ordained: June 10, 1961
Died: June 5, 2004
Father Ronald Potter died on June 5, 2004 at Phelps Memorial Hospital, Sleepy Hollow, New York. He was 70 years old and a Maryknoll priest for 43 years.
Ronald John Potter was born to David and Frances Schramek Potter in Brooklyn, New York on March 12, 1934. He grew up with two younger brothers and one younger sister. He attended St. Patrick's Elementary School and St. Michael's Diocesan High School, both in Brooklyn, and received his high school diploma in 1951. He entered the Maryknoll Junior Seminary (Venard) in Clarks Summit, Pennsylvania immediately after graduation from high school. Father Potter was ordained on June 10, 1961, and assigned to the Maryknoll Mission Region of Guatemala.
Father Potter worked for 19 years in Guatemala, often spending long hours on horseback to reach the people to whom he ministered. He was co-pastor in his first parish, and pastor in his second and third parishes, all of which were situated on the border flanking Chiapas, Mexico. He was able to turn the third parish over to a Guatemalan priest in 1980 before going on to his new assignment; another border parish, this time in El Salvador along the Honduran border. Shortly after his arrival in El Salvador, Archbishop Romero was murdered, and Father Potter spent the next ten months doing whatever he could to aid the people who were injured as a result of the fighting, as well as providing refuge in his rectory for many women and children whose homes had been destroyed. Two weeks after the three Maryknoll Sisters and one lay missioner were killed, Fr. William Mullan, the Regional Superior, requested that Father Potter leave El Salvador. In February 1981 Father Potter and two other Maryknoll priests (Fathers Kneuer and Belliveau) were assigned to Honduras a Maryknoll first.
In September 1985 Father Potter was assigned to the United States to work in the Development Department. He spent three years in the Development House in Houston, Texas; three years as Director of the St. Louis Development House, and a year in the Gainesville Development House, Florida, living and working in Puerto Rico.
On October 1, 1992 Father Potter was reassigned to the Central America Region, and began once again his work in Honduras. He did parish work in San Pedro Sula, Honduras and as the sugar cane fields were slowly being sold, new neighborhoods were created. Father Potter's job was to help the people moving in to form Christian communities and to build their church. He was continuing his work in San Pedro Sula, when he returned to the United States for medical treatment.
Wake services were held at 4:30 p.m. on June 7, 2004 at St. Teresa's and at 7:30 p.m. in Queen of Apostles Chapel, conducted by Father Richard Czajkowski. Biography was read by Father Eugene Toland Mass of Christian Burial was concelebrated in Queen of Apostles Chapel on June 8, 2004 at 11:00 a.m. Father Anthony V. Brennan was Principal Celebrant and homilist. Burial followed in Maryknoll Society Cemetery with Father Francis T. McGourn conducting the graveside service.