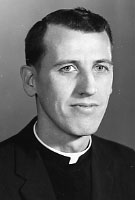 Father Ronald W. Hennessey, MM
Born: October 11, 1929
Ordained: June 13, 1964
Died: April 29, 1999
While in Ryan, Iowa to attend his sister Monica Krebsbach's funeral, Father Ronald W. Hennessey died on April 29. He was 69 years old and a Maryknoll priest for almost 35 years.
Ronald William was born October 11, 1929 on a farm near Rowley, Iowa, one of fifteen children born to Maurice and Anna Monica Killeas Hennessey. His early schooling took place in Washington Grammar School in Independence and he graduated from St. Patrick's High School in Ryan, Iowa in 1947, after transferring from St. John's of Independence the previous year. Ronald was drafted into the U.S. Army and served as a mechanic and later a Motor Sergeant in Korea. While in Korea, he received three Bronze Stars for his military service. Under the Eisenhower Christmas Program, he was returned to the United States and released from active service on December 9, 1953. He entered Maryknoll Junior Seminary (Venard) at Clarks Summit, Pennsylvania, on September 9, 1954, for special Latin studies, and five years later graduated from Maryknoll College, Glen Ellyn, Illinois in June of 1959. Father Hennessey was ordained at Maryknoll Seminary, New York on June 13, 1964.
Father Hennessey was assigned to the Guatemala Region (the present-day Central America Region). After language studies at Glen Ellyn and Huehuetenango, Guatemala, in February 1965 he was assigned to substitute for the Maryknoll priests in the Dioceses of Quezaltenango. Father Hennessey worked there until December 1967 when he was assigned to a Colonization Project in the jungle of The Peten. On January 1, 1975, Father Hennessey began a three-year term as Regional Superior and was re-elected for another term, during which he was a delegate to the 1978 General Chapter at Maryknoll, New York. In October 1980, he replaced the newly-elected Regional Superior as the Pastor of San Mateo Ixtatan, in Huehuetenango, where he became very much involved in the human rights struggle of the local Indians. In January 1986, he joined a four-priest team to re-establish a Maryknoll presence, after a five-year absence, in El Salvador. There he served in a team ministry in a parish on the outskirts of the capital that had had no priest since the Church was bombed in 1980.
Father Hennessey was re-elected as Regional Superior of the Central America Region in October 1992, and again, re-elected for a second term in 1995. In his capacity as Regional Superior, he was a delegate to the 1996 General Chapter held in Hong Kong. Upon completion of his second term, in January 1999, he was assigned to the Mission Promotion Department, working in the Los Angeles House.
Family wake services were held on May 2, 1999 at St. Patrick's in Ryan, IA and Mass of Christian Burial was celebrated at St. Patrick's on May 3, 1999 at 10:30 a.m.
Wake services were held on Tuesday, May 4 at 7:00 p.m. at St. Teresa's Residence Chapel and at 7:30 p.m. at Queen of Apostles Chapel at Maryknoll Center where Father Martin Keegan officiated. Mass of Christian Burial was concelebrated at Queen of Apostles Chapel on Wednesday, May 5 at 11:00 a.m. Father Richard Callahan was Principal Celebrant and Father Robert Carleton homilist. Burial followed at Maryknoll Center Cemetery with Father Thomas Henehan conducting the graveside service.