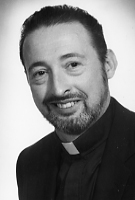 Father Roy C. Assenheimer, MM
Born: April 6, 1938
Ordained: June 12, 1965
Died: January 5, 2006
Father Roy C. Assenheimer died in Tokyo, Japan on January 5, 2006. He was 67 years old and a Maryknoll priest for 40 years.
Roy Charles Assenheimer was born in Philadelphia, Pennsylvania on April 6, 1938, to George and Mary Flanagan Assenheimer. He has one older brother and one younger brother. After completing St. Barbara Elementary School in Brookfield, Illinois, he entered high school at Maryknoll's Junior Seminary (Venard), Clarks Summit, Pennsylvania from which he graduated in June 1956. He then went on to earn a Bachelor of Arts degree in Philosophy at Maryknoll College, Glen Ellyn, Illinois. In 1964 he received a B.Div. degree in Theology at Maryknoll, New York and in June 1965 he earned a Master of Theology degree. Father Assenheimer was ordained a priest at Maryknoll, New York on June 12, 1965.
Upon ordination Father Assenheimer was assigned to the Maryknoll  Mission Region in Japan where, after language school, he was assigned as Assistant Pastor of Matsusaka church in Mie Prefecture. In February 1970 he moved to the coal mining town of Yubari in Hokkaido, where he served as Assistant Pastor at Shimizuzawa Parish for eight months before transferring to Tomakomai Asahi-machi Parish in Hokkaido. From 1972 through February 1976 Father Assenheimer served as Pastor of Shizunai Church in Hokkaido.
Following a short furlough in the United States in 1976, Father Assenheimer returned to Hokkaido, Japan and became involved in a new ministry for the recovery of alcoholics and drug addicts in the city of Sapporo. Beginning with MAAP (Maryknoll Alcoholism Assistance Program), he opened up MAC (Maryknoll Alcohol Center) in the cities of Sapporo and Obihiro in Hokkaido. In 1983 Father Assenheimer was called to Tokyo to coordinate the many MAC Centers that were spreading through out Japan. In 1985 he opened Japan's first halfway house and daycare center for drug addicts, DARC (Drug Addiction Rehabilitation Center) in Tokyo.
A recovering addict and alcoholic himself, Father Assenheimer understood the problems his addicts faced. In fact most of the volunteers and paid workers in the programs throughout Japan are recovering from some form of addiction. In an interview at his 40th Jubilee celebration in June 2005, he said: "The high point of my mission career is the fact that God saw fit to allow me to become addicted to alcohol and other drugs. It has been a blessing that I have experienced the great suffering of addiction and the love of God which has lifted me to the heights of recovery. I am able now to understand the suffering of others and thus to be able to help them by becoming their companion, to walk with them and to learn from them."
At the time of his death, Father Assenheimer was serving as national coordinator of MAC/DARC/APARI. There are 73 MAC and DARC Alcohol and Drug Addiction Rehabilitation Halfway Houses and Daytime Recovery Centers throughout Japan, with six more on the drawing board, and a free clinic for addicted men, women and children, all run by donations. Father Assenheimer was co-founder and Chairman of the Board of APARI, the Asia-Pacific Addiction Research Institute. He and his leaders traveled throughout the Far East and Southeast Asia carrying the message of recovery to still-suffering drug addicts. In addition, Father was the Chairman of the Board of J.C.C.A. (the Japan Catholic Council on Addiction), an arm of the Japan Bishops' Conference, as well as founder and director of J.I.I.S. (Japan International Information Service), a network of services in the field of addiction.
Recently, Father Assenheimer had signed a 20-year contract with Japan's Ministry of Justice to play an essential role in a new experimental prison for 1000 first-timers imprisoned for drug-related crimes, with stress on rehabilitation and not punishment. Also, all 72 prisons in Japan have begun including DARC's Drug Addiction Recovery Program.
The wake was held on Wednesday, January 11, 2006 at 7:00 p.m., and a Funeral Mass was celebrated at 1:30 p.m. on Thursday, January 12, 2006 at Catholic Kojimachi Church, Tokyo, Japan. Burial followed in Kyoto, Japan. A Memorial Mass was held at Maryknoll Center on January 27, 2006.