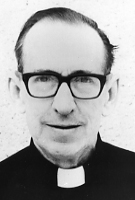 Father Roy P. Leonard, MM
Born: February 10, 1921
Ordained: June 12, 1948
Died: August 5, 1989
Father Roy Philip Leonard died at St. Teresa's Residence on August 5, 1989. He was 68 years of age and a Maryknoller for 45 years.
Roy was born on February 10, 1921 in Thibodaux, Louisiana, son of Raoul Henry and Eleanore Clement Leonard. He had 2 brothers and 3 sisters. His early education was in Thibodaux College, run by the Sacred Heart Brothers. As a seminarian for the New Orleans Archdiocese Roy studied for four years of high school and 2 years of college in St. Joseph Minor Seminary, St. Benedict, La. and 3 years in Notre Dame Seminary, New Orleans. He was attracted to the foreign missions through his activities in the Catholic Students' Mission Crusade in both seminaries and by reading the Field Afar. Roy entered the Maryknoll Novitiate at Bedford in 1944 and was ordained four years later on June 12, 1948.
After Ordination Father Leonard was assigned to Japan. He studied the language in Karasaki and as the years passed he acquired an excellent command of the language. His first parish assignment was in Kinugasa Mission, Kyoto, as assistant pastor. In 1951 health issues necessitated his return to the U.S. for medical evaluation. Not long after, he returned to Japan as assistant in the Sonobe Parish and shortly thereafter as pastor of the Ueno Parish where he served until 1956. He was happy and dedicated to the ministry in that place, especially in working with children.
Among his confreres he was referred to as 'The Southern Gentleman'.He always gave warm and friendly hospitality to his fellow priests when they visited. He did not like to travel by air and was the only one who traveled by ship on furloughs. In 1956 he was appointed Pastor of the Ginza Chapel in Tokyo where he served for a year and then transferred back to the Yamashina Parish in Kyoto City. He developed a fine understanding and deep sympathy for the people and easily adapted to their customs. One might say he expressed true southern hospitality in Japanese dress. As a result he was much loved and accepted by the people. One of his fellows said, "Roy had a personal touch with many of his parishioners: their names, little details of their daily lives, the problems of grandma down the street. And they, in turn, were ever willing to go out of their way to care for him."
After a home furlough in 1959 he served as assistant in the Kinugasa Parish for 3 years and in 1962 was appointed Pastor of the difficult Kameoka Mission where parish growth was very slow. However, he adapted to the situation and became well liked by the people. He was Pastor of the Sakamoto Parish, near Kyoto, for 6 years. After furlough in 1977 Fr. Leonard accepted his last assignment as pastor of Aodani in Kyoto-fu.
Although never robust, he enjoyed steady health most of his life. However, in 1988, he entered Kyoto University Hospital with serious health concerns. Fr. Leonard returned to the States in March of that year for medical treatment and recuperation at the Center. Although during his years of ministry he rarely visited the Center, at this time he spoke of how deeply impressed he was by the thoughtfulness of the Maryknoll Family in Japan, at Maryknoll in New York, as expressed by the Superior General, the nurse attendants and residents at both Center and St. Teresa's. He would read the Divine Office at all hours of day and night. He said he never felt such a meaningful prayer experience since he was 14 years old. He said the Lord must be getting him ready to meet Him and asked why priests did not talk much about such intimate prayer experience.One of his classmates said "Roy experienced a spiritual conversion."
After a lengthy recuperation Roy returned to Aodani, Japan in the late Fall of 1988, with the desire to continue his work as well as he could. However, in May, 1989 he again had to return to the U.S. for medical treatment, entering Phelps Memorial Hospital on the 10th. After his hospital stay, he took up residence at St. Teresa's until the time of his death.
Wake services were held at St. Teresa's and the Center Chapels on August 8, with Mass of Christian Burial the next day. Fr. Leo Sommer was principal celebrant and Fr. Thomas Higgins the Homilist. Burial was in the Maryknoll Cemetery.