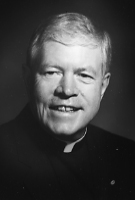 Father Sean P. Burke, MM
Born: April 1, 1946
Ordained: May 20, 1978
Died: May 5, 2009
Father Sean P. Burke died in St. Paul's Hospital, Hong Kong, on May 5, 2009. He was 63 years old and a Maryknoll priest for thirty years.
Sean Patrick Burke was born in Croyden, England on April 1, 1946, son of Joseph P. and Julia Kerrigan Burke. He and his family moved to Ohio, where Sean became a naturalized U.S. citizen in 1955. He grew up in Cleveland, Ohio with five brothers and two sisters, one of whom is a Notre Dame Sister. Sean attended St. Agatha and Christ the King elementary schools before graduating from Borromeo Seminary, Wickliffe, Ohio in 1964 and in 1968 received a B.A. in Philosophy from Borromeo College. He studied Theology for one year at St. Mary's Seminary, Cleveland and then taught at St. Augustine Academy in Lakewood, Ohio from 1969 to 1971. In September 1971 he entered Maryknoll at Hingham, Massachusetts. He completed his OTP training in Hong Kong, and was ordained a Maryknoll priest on May 20, 1978.
Father Burke spent his entire missionary career in the Hong Kong Region. In 1978 he helped start a charity called Helping Hand for homeless old people. He served as Administrator for the charity's first 10 years, Chairman from 1994 to 2000, and Vice-Chairman since 2000.
In 1982 Father Burke began work with a hospice group (Society for the Promotion of Hospice Care) that eventually built Hong Kong's first free-standing hospice, serving on the Executive Committee since the beginning. He also served as an Executive Committee member of a charitable society taking care of street people from 1981 through 2001. In 1983 Father Burke received the Governor's Commendation for Community Service, and in 1989 he was appointed a Justice of the Peace and also received the American Chamber of Commerce Community Service Award.
In 1985 Father Burke was elected Assistant Regional Superior of the Hong Kong Region. He was elected Regional Superior of the Hong Kong Region in 1988 and reelected in 1991. In October of 2000, he was again elected as Regional Superior until 2007, when the Asia Region became one.
At the time of his death Father Burke was the official Prison Chaplain for Hong Kong's 24 penal institutions, responsible for coordinating the work of the volunteer chaplains and religious groups that do prison visiting. He began this work full-time in 1994 and continued part-time since his appointment as Regional Superior of the Hong Kong Region in 2000.
Wake services were held at Christ the King Chapel, Causeway Bay, Hong Kong on Wednesday, May 13, 2009 at 6:00 p.m. Mass of Christian Burial was concelebrated on Wednesday, May 13 at 8:00 p.m. Bishop John Tong was Principal Celebrant and Monsignor Dominic Chan assisted. Father Joseph Veneroso was the English homilist and Father John Cioppa delivered the homily in Chinese. Burial service was on Thursday, May 14, 2009 at 10:30 a.m. at St. Michael's Cemetery, Happy Valley, Hong Kong. Monsignor Michael Yeung conducted the graveside service.
A Memorial Mass was held in St. John Vianney Church, Mentor, Ohio on Tuesday, May 12, 2009 at 7:00 p.m. for Father Burke's family. Father Thomas Johns was the Principal Celebrant and Father James Huvane the homilist.
A Memorial Mass was also held at Maryknoll, New York on Friday, May 15, 2009 at 11:00 a.m. at Queen of Apostles Chapel. Father Clyde Phillips was Principal Celebrant and Father John P. Cuff, homilist.