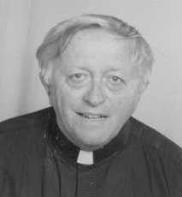 Father Sigmund S. Jamroz, MM
Born: December 18, 1937
Ordained: June 11, 1966
Died: October 19, 2017
Father Sigmund S. Jamroz died on October 19, 2017 in Santa Cruz, Bolivia. He was 79 years old and a Maryknoll priest for 51 years.
Sigmund Stephen Jamroz was born on December 18, 1937 in Raciechowice, Poland, only son of John Jamroz and Stefania Kuglin Jamroz. Early in his life the family came to Chicago and later, his parents returned to Krakow, Poland. He attended Holy Trinity Grade School and graduated from Holy Trinity High School in 1956.
He entered Maryknoll Junior Seminary, Clarks Summit, Pennsylvania on September 6, 1956. On June 11, 1961 he graduated from Maryknoll College, Glen Ellyn, Illinois with a Bachelor of Arts degree in Philosophy. At Maryknoll Seminary, New York, he received a Bachelor of Divinity degree in June 1965 and a Master of Arts in Theology in June 1966. He was ordained a priest at Maryknoll Seminary, New York on June 11, 1966.
Following ordination, Father Jamroz was assigned to Maryknoll's Mission Region in Bolivia. After language studies in Maryknoll Language School, Cochabamba, Bolivia, he was assigned to Riberalta for work among the peoples along the Pando River. He arrived in Cobija Pando on Christmas Eve, 1966 and spent a month working alone in Porvenir. This experience was great for perfecting his language skills.
In 1967 while in Cobija, Father Jamroz served as treasurer of the Savings Cooperative and filled in for the local pastor who was away. In 1968 he participated in the Vicariate Assembly, following which he was assigned to the river apostolate. He spent four years on the rivers, taking a full year to visit all the small communities, spending a day in each area. In addition to serving the various needs of the peoples in these communities, Father Jamroz worked to recruit men to study to be religious leaders.
Father Jamroz returned to Cobija in 1972, this time as pastor. He continued the work of recruiting religious leaders, organizing parish councils, and building up the Church in the area. He was able to meet the various Bolivian presidents during their official visits. In 1978 he was named pastor in Guayaramerin, a large town, where he continued his vocation work as well as building churches, schools and convents.
In 1983 Father Jamroz left the Vicariate and started working in La Bélgica, a company town in Santa Cruz. He served two terms as vice president of the Priests' Senate, and two terms as president of the clergy of the Northern sector of the Santa Cruz Archdiocese. After 18 years in the area, being subjected to the dust, smoke and toxic gases from the sugar refinery, Father Jamroz had to leave La Bélgica. In June 2003, Father Jamroz retired with residence in Warnes, Santa Cruz, Bolivia. For many years, he continued working among the peoples with whom he had spent his entire missionary career. In March 2011 Father Jamroz was assigned to the Senior Missioner Community with continued residence in Bolivia.
A Rosary and wake service was held at 4:00 p.m. on October 19, 2017 at San Jose Parish in Bélgica, Bolivia. Mass of Christian Burial was celebrated by Bishop Stanislaw Dowlazewicz, OFM, and Frs. Juan Zuniga, Dae Kim and Eugene Toland at 10:00 a.m. October 20, 2017 at at San Jose Parish in Bélgica. Interment followed in Nuestra Señora del Rosario (Our Lady of the Rosary) Church in Warnes, Bolivia.