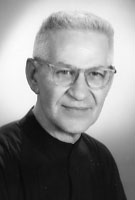 Father Stanislaus T. Ziemba, MM
Born: July 10, 1910
Ordained: June 16, 1935
Died: February 4, 1984
Any missionary who wishes for martyrdom runs the risk of being misunderstood. A desire to walk in the paths of the heroic missionary martyrs brings either physical or mental wounds that are either terminal or temporary scars that one is forced to live with. Yet, one who dedicates his life to the Crucified Christ would expect to have his well-meaning actions misinterpreted by others so that his own missionary life becomes one of suffering, isolation and loneliness.
At an early age, Father Ziemba read the life of Blessed Theophane Venard and was so inspired by his life that he wanted to become a young martyr. In many ways the zeal of Father Ziemba in his pastoral outlook on life was misinterpreted in such a way that the good he was doing in his priestly life was not fully understood. Perhaps his good judgment failed him at times, but he never lost the true meaning of the priesthood as he reached out to touch others as a pastor of souls.
Father Ziemba was born to Stanislaus and Maria Ziemba on July 1, 1910, in Pittsburgh, Pennslyvania. After finishing his primary schooling, he entered the Venard in 1924. He was ordained to the priesthood on June 16, 1935.
His first assignment was to Fushun, Manchuria, where he worked very diligently for seven years until he returned to the U.S. in 1942. The following year found him in Hawaii. At this time a layman wrote this about the priestly work of Father Ziemba: "Father Ziemba was a priest, a friend and a father to all; he was ready at all times to help us in all our difficulties and our problems. He was patient and understanding. Religious opposition is great in this community, but Father slowly and patiently worked among us and showed us the truth, the light and the way." In 1949 he was recalled to the mainland and assigned to the Cuyahoga Falls house in Ohio. He became a very good friend to many members of the local clergy and continued his pastoral work serving as a Chaplain to a Sisters' community. In 1957 he became an assistant in St. Francis de Sales Parish in New York City. Since 1975 he has been retired and became a member of the Special Society Unit.
During his lifetime, Father Ziemba suffered from various illnesses. In March, 1983, he fell seriously ill. He died at St. Teresa's on Saturday, the 4th of February.
The Wake was held on February 6 with Father James Noonan officiating and biography read by Father Joseph Lang. The Mass of Christian Burial took place in the Center Chapel the next day with Principal Concelebrant and Homilist Father Paul Newpower. Final absolution was given by Father Eugene Toland. Burial was in the Center Cemetery.
Father Ziemba, with his fine qualities and virtues, was led by the Spirit into paths that perhaps were unknown and even uncharted, but his dedication to a priestly missionary life never left him. May he rest in peace.