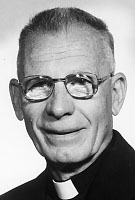 Father Stephen B. Edmonds, MM
Born: February 27, 1911
Ordained: June 16, 1940
Died: October 2, 2005
Father Stephen B. Edmonds died on October 2, 2005 in Hong Kong. He was 94 years old and a Maryknoll priest for 65 years.
Stephen Butler Edmonds, one of five children of William and Catherine Ansell Edmonds, was born in Cambridge, Massachusetts on February 27, 1911. He attended Fletcher Grammar School, and Cambridge Latin High before entering Maryknoll College, Clarks Summit, Pennsylvania, in September 1929. He was ordained a Maryknoll priest on June 16, 1940.
Shortly after ordination Father Edmonds left for Hong Kong to begin to study the Chinese language prior to his working in the Maryknoll mission in South China. The impending threat of the outbreak of World War II in the Pacific region brought to an abrupt end his study of Chinese, and hastened his unexpected entry into the mainland.
For the first two years of his missionary life Father Edmonds taught in the Minor Seminary in Taan Chuk, in Wuchow, South China. During World War II he was on the move with the seminarians and fellow Maryknollers, keeping two or three villages ahead of the invading Japanese forces, until finally being forced out of his mission territory.
Father Edmonds spent the last year of World War II as a Contract Chaplain with the U.S. 14th Air Force in China. After a home furlough in 1949, Father Edmonds returned to Wuchow and remained there until he was expelled by the Communists in January 1952. Father Edmonds remained in Hong Kong after his expulsion from China, and soon he was engaged in work with the thousands of Chinese refugees in the Chai Wan area of Hong Kong Island. There he built a church, opened two primary schools, and set up a free clinic and relief program for the refugees living in the immediate area.
In 1973 the parish was turned over to the Bishop of the Hong Kong diocese and a Chinese priest became the new pastor. Father Edmonds has remained in residence in the same parish church since that time.
In 1952, as part of his apostolate in Chai Wan, Father Edmonds began work as a volunteer chaplain for the Hong Kong Correctional Services Department. In 1977, in recognition of his devoted work among the inmates, Father Edmonds was awarded the Badge of Honor, in the name of Queen Elizabeth II, by the Governor of Hong Kong. In 1985, Father Edmonds was made a Member of the British Empire (MBE) by Her Majesty the Queen, and in November 1994, he received the Colonial Prison Long Service Medal. On his retirement as full-time Prisons Chaplain, Father Edmonds was made an Honorary Life Correctional Services Department Chaplain to all institutions.
Blessed with good health over the years, he served all of his 65 missionary years in China and Hong Kong, and remained active in youth and prison ministries, albeit at a slower pace, until his death.
A Vigil Mass was held at 8:00 p.m. on October 7, 2005 at Star of the Sea Church, Chai Wan, Hong Kong, with Father Dominic Chan, Vicar General, Hong Kong Diocese officiating. The Funeral Mass was concelebrated in Christ the King Chapel, Causeway Bay, Hong Kong on October 8, 2005 at 10:00 a.m. Bishop John Tong was Principal Celebrant. Burial followed in Chai Wan Catholic Cemetery.
A memorial Mass for Father Edmonds was held at Maryknoll, New York on October 7, 2005. Father Raymond Nobiletti was the Principal Celebrant and Homilist; Father Carmen La Mazza read the biography, and Father John McAuley read the Oath.