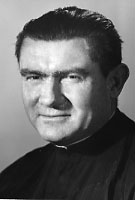 Father Stephen J. Maskell, MM
Born: February 7, 1921
Ordained: June 12, 1948
Died: November 19, 2003
Father Stephen Maskell died peacefully in his sleep at St. Teresa's Residence early in the morning of November 19, 2003. He was 82 years old and a Maryknoll priest for 55 years.
Stephen Joseph Maskell, son of Leonard and Mary Wade Maskell was born in New York City February 7, 1921. He went to Our Lady of Victory Primary School in Mt. Vernon and to Fordham Preparatory High School in the Bronx. He entered Maryknoll at the Venard in 1939, went on to Theology at Maryknoll, New York and was ordained June 12, 1948.
After ordination, Father Maskell was assigned to the Bolivia Region. Following language school in Cochabamba, he was assigned to the Pando Vicariate where he served in Riberalta among the people in the river settlements. From 1950 through 1959 he taught in the high school in Riberalta, while also working in the leper colony of Agua Dulce. Beginning in August 1959 Father Maskell was Assistant Director of the Maryknoll Language School in Cochabamba. In 1962 he returned to the United States, and for ten years, beginning in 1963, he served as Chaplain at Milpitas Honor Farm and Chaplain of the San Jose County Jail. During this period he set up training programs for the inmates, so that they could earn a GED as well as learn the printing trade. He began to look into the treatment of alcoholism, and in 1974 he left the prison work to devote all his time to recovery programs and alternatives to incarceration. He was instrumental in setting up the Dismas Project, a fully licensed half-way house for recovering addicts.
In June 1979, Father Maskell was assigned to the Special Society Unit and moved into the Maryknoll Residence at Los Altos, California, where he continued his work with recovering alcoholics and drug addicts. In 1995 Father Maskell moved to St. Teresa's Residence, Maryknoll, New York.
There are many great stories about Father Maskell, and one is that sometime in the 1940's his mother was saved from drowning at Coney Island by Bridget Maher. The Mahers and the Maskells soon became friends, and Bridget's son, Joe, served as one of the Altar Boys at Father Maskell's first Mass at Riker's Island.
Wake services were held at 4:30 p.m. on November 24, 2003 at St. Teresa's, with Father Thomas McDonnell officiating, and at 7:30 p.m. in Queen of Apostles Chapel at Maryknoll Center where Father John Barth officiated and Father Thomas Keefe read the biography. Mass of Christian Burial was concelebrated in Queen of Apostles Chapel on November 25, 2003 at 11:00 a.m. Father Francis Diffley was Principal Celebrant and Father James Manning homilist. Burial followed in Maryknoll Society Cemetery with Father John Barth conducting the graveside service.