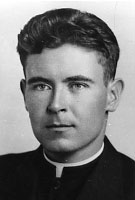 Father Stephen P. Foody, MM
Born: April 18, 1916
Ordained: February 7, 1943
Died: August 13, 1970
Stephen P. Foody was born in New York City on April 18, 1916. His early education was received at St. Catherine School and St. Joseph's in the Bronx. He completed the first four of Cathedral College's six-year course before entering the Venard in 1934. He was ordained by Bishop James E. Walsh on February 7, 1943.
His first assignment was to Puno, Peru. In 1945 he was transferred to Chile where he faithfully occupied many positions in the pastoral apostolate. In 1957 he was assigned to the Promotion Department and worked in Philadelphia, New York City and Buffalo before returning to his mission work in Chile in 1962.
Returning to the States on furlough in 1968 he again did some development work in New Orleans and worked for about a year as chaplain at Phelps Memorial Hospital. He returned to Chile in January of 1970.
Father Foody was buried at Licanten, Chile on August 15th. A Mass was concelebrated at his home parish in the Bronx, with Father William Bergan as celebrant and Father Joseph Rickert preaching the homily.