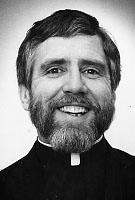 Father Stephen T. DeMott, MM
Born: July 7, 1948
Ordained: May 22, 1976
Died: March 30, 2006
Father Stephen De Mott died on March 30, 2006 at St. Teresa's Residence, Maryknoll, New York. He was 57 years old and a Maryknoll priest for 29 years.
Stephen Thomas De Mott, born July 7, 1948 in Crookston, Minnesota, was the third of nine children of John Irving and Marie Julia Ryan De Mott. In 1955 his father, who had only recently begun to farm 600 acres of land received in inheritance, passed away. Three years later his mother, a speech and drama teacher, moved the family to Omaha, Nebraska. There, with great faith and remarkable courage, she managed to feed and educate her children on her salary as a high school teacher, Social Security checks and income from farm rental. The children helped with household chores, delivered newspapers and worked at a variety of other jobs to augment the family income.
Father De Mott graduated from St. Margaret Mary's grammar school in Omaha, and entered Maryknoll Junior Seminary in Chesterfield, Missouri in September 1962, where he participated in speech contests and worked on the staffs of the literary magazine and yearbook. He then studied at Maryknoll College in Glen Ellyn, Illinois, where he was editor of the Glen Echo, the school publication covering such topics as the Vietnam War, race riots, and changes in the Church. He graduated with a BA degree in 1970. After attending the Maryknoll Novitiate in Hingham, Massachusetts he went on for a Master of Divinity at the Maryknoll School of Theology. For his Overseas Training Program (1973 – 1975) he was assigned to Guayaramerin, Pando, Bolivia, a steamy jungle town on the Brazilian border. After returning to the U.S. he spent his deacon year at St. Peter's Parish in Yonkers, NY, was ordained at Maryknoll on May 22, 1976 and assigned to the Chile Region.
Father De Mott arrived in Chile during the initial years of the military dictatorship of Gen. Augusto Pinochet, a time marked by unemployment, hunger and the systematic abuse of human rights. The Church opened soup kitchens and founded the Vicariate of Solidarity to promote and defend the rights of the oppressed. He was assigned to work with small Christian communities in Puente Alto, a working class area south of Santiago. During those years he made contact with the families of persons who had disappeared and promoted their efforts to learn the fate of their loved ones. In 1981 he was assigned to the Social Communications Department in Maryknoll, NY where he worked as an associate editor for seven years. During that time he obtained an MS in Journalism from Columbia University in New York City, and traveled extensively reporting on Maryknoll's work in Asia and Latin America.
In 1988 he was re-assigned to the Chile Region, where he worked for five years among peasant farmers in the Diocese of Linares. Father De Mott taught lay ministers and seminarians, trained correspondents for the diocesan newspaper, and promoted devotion to "la Virgen Campesina," Our Blessed Mother in a woolen poncho and peasant's straw hat.
In 1993 Father De Mott was appointed director of the Social Communications Department at Maryknoll, NY, a post he held for six years. During this time the department produced the award-winning video "School of Assassins" about the US Army School of the Americas located in Ft. Benning, GA, and the many human rights abuses committed by its graduates. In May 1999 Father De Mott became ill and underwent extensive treatment. After recuperating, Father De Mott was assigned to the Andean Region (Chile, Peru) where he worked in Lima as an editor at Latinamerica Press/Noticias Aliadas. In April 2001 he was elected coordinator for Maryknoll Society Members in Peru and also delegate to the 2002 General Chapter held in Bangkok, Thailand and Maryknoll, New York.
Due to illness, Father De Mott resigned his positions as Assistant Regional Superior of the Latin America Region and Coordinator of the Peru-Chile District and moved to St. Teresa's Residence at Maryknoll, New York in May 2005.
Wake services were held at 4:30 p.m. on April 3, 2006 at St. Teresa's, with Fr. J. David Sullivan officiating, and at 7:30 p.m. in Queen of Apostles Chapel at Maryknoll Center where Father Ernest Lukaschek officiated and Father William D. McCarthy read the biography. Mass of Christian Burial was concelebrated in Queen of Apostles Chapel on April 4, 2006 at 11:00 a.m. Father Joseph Veneroso was Principal Celebrant and homilist. Burial followed in Maryknoll Society Cemetery with Father John McAuley conducting the graveside service.