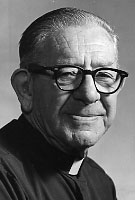 Father Sylvio R. Gilbert, MM
Born: January 1, 1897
Ordained: June 19, 1927
Died: August 3, 1992
Father Sylvio Rodrique Gilbert died at St. Teresa's Residence, Maryknoll, New York, at 8:40 a.m. on Monday, August 3, 1992. He was 95 years of age, the oldest Maryknoller in the Society. He would have celebrated 75 years as a Maryknoller in September.
Sylvio was born on January 1, 1897, in Grosvenordale, Connecticut, son of Joseph O. and Regina J. Gilbert. He has two living brothers in his family of 8 children. He attended parochial school up to the 8th grade and then went to work to help support his family. He did not go to high school. He was interested in becoming a priest but not a diocesan priest. A Dominican priest directed him to Maryknoll. He was accepted by Father James A. Walsh and entered Maryknoll Apostolic College (Venard), Clarks Summit, Pennsylvania in September of 1917 and studied there for five years. While he was a seminarian at Maryknoll Seminary in New York he received a Bachelor of Sacred Theology degree in 1926 and was ordained a priest on June 19, 1927.
After ordination, Father Gilbert was assigned to the Maryknoll Mission in Fushun, Manchuria, on September 11, 1927. As pastor of the Antung mission he learned the Mandarin Language very well, opened a mission school with catechists and had many converts. In 1931 he was appointed pastor of the T'ung Hua mission. After home leave in 1935 he returned to Fushun in 1936 and was assigned to the Chao Yang Chen Mission for two years and then moved to the T'ung Hua Mission in 1938. He was interned by the Japanese in 1941 and repatriated to the United States in 1943. He worked as a Chaplain in the Japanese Internment Camps in Gila, Poston, and Parker, Arizona for a year. After the war he was reassigned to the Manchuria Mission, but a long shipping strike delayed his departure and in October 1945, he was temporarily assigned to Promotion (now Development) work for Maryknoll at the Bedford Promotion House in Massachusetts. The Chinese Communists took over Manchuria in 1949 and Father Gilbert's Promotion assignment was continually renewed every two or three years to a different Promotion House in the United States for the rest of his active life. He served in the Chicago Promotion House in 1946; moved to the Akron Promotion House in 1949; back to the Chicago House in 1953; and then to Brookline, Massachusetts. He would be a short time in Seattle; then in the Los Angeles Area of California; then in Nevada; and even in Florida. He was great for visiting rectories and getting Church dates and sponsors, and excelled in French speaking parishes in New England. As a result Father Gilbert became a great traveler and was an excellent Promoter for Maryknoll and the missions for over 40 years wherever he was assigned or traveled. He frequently expressed the desire for a mission assignment to Japan or Taiwan, but he was kept in the Promotion Department.
Father Gilbert retired from the Development Department in April of 1970 after 25 years. Since then his basic residence has been St. Teresa's Residence at Maryknoll, New York. He was enrolled in the Special Society Unit on May 1, 1977. Even after retirement he was occasionally called upon to do some specific Development work and thus he continually traveled to different parts of the United States. He joyfully celebrated his 65th anniversary of ordination at Maryknoll, New York in June of 1992 with a large group of family members.
Wake services will be conducted at St. Teresa's Chapel and Queen of Apostles Chapel Wednesday evening, August 5th. Concelebrated Mass of Christian Burial will be offered in Queen of Apostles Chapel on Thursday at 11:30 a.m., with Father Maurice Gilbert as the principal celebrant and Father Edward Manning, homilist. Interment will be in the Maryknoll Center cemetery conducted by Father Thomas B. Kirchmyer.