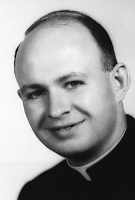 Father Theodore M. Kuechmann, MM
Born: April 16, 1926
Ordained: June 13, 1953
Died: October 16, 1997
Father Theodore Kuechmann died at 11:00 a.m. on Thursday, October 16, 1997, at Phelps Memorial Hospital Center, Sleepy Hollow, New York, where he had been hospitalized for three days. He was 71 years old and a Maryknoll priest for 44 years.
Theodore was born in Manitowoc, Wisconsin, on April 16, 1926, son of Theodore and Antonia Isselmann Kuechmann. He has four brothers and two sisters. He attended St. Boniface Parochial School and graduated in June 1940. He entered the Capuchin high school seminary, St. Lawrence College, in Mt. Calvary, Wisconsin, and graduated in June 1944. He entered Maryknoll Apostolic College (Venard), Clarks Summit, Pennsylvania, in September of that same year. At Maryknoll Seminary in Ossining, New York, he received his Bachelor of Arts degree in Philosophy in 1949 and his Bachelor of Theology and Master of Religious Education degrees in 1953. He was ordained a Maryknoll priest at Maryknoll, New York, on June 13, 1953.
Father Kuechmann was assigned to the Maryknoll Mission Region in Japan. Two days after ordination, he offered Mass in the Chapel at Sing Sing Prison in nearby Ossining where as a seminarian he had played the organ on various Holy Days. A month later he departed for Japan. After language and cultural studies in Tokyo, he was appointed Assistant Pastor of the Kinugasa-cho in the Kyoto Prefecture. A year later he was transferred to the Maryknoll parish in Otsu. In 1957 he became the Administrator of the Matouzaka mission and a year after that, in 1958, he became the first Pastor of the new Maryknoll mission in Owase. After a Home Leave in 1959 he returned to Owase and established a successful parish among the people. In May 1962, due to health reasons, he was transferred to the Maryknoll mission in Tsu and a few months later appointed Pastor of the Uji Parish. On March 1,1965 he was moved to the well-established Maryknoll mission in Nagahama as Assistant Pastor. In July 1967 Father Kuechmann was transferred to the Muroran mission on the northern Island of Hokkaido. He was appointed Chaplain for the Benedictine Sisters who staffed the Muroran Catholic High School and he also helped out in the parish. As an active member of the Lions Club in many places he worked, he was able to meet and interact with many non-Catholic Japanese men. While on Home Leave in 1969, Father Kuechmann completed a course in Clinical Pastoral Training at Grafton State Hospital in North Grafton, Massachusetts. In June 1970 he was formally assigned to the United States Region. In May 1971 he was assigned to the Maryknoll Residence in Los Altos, California. In May 1977 he was enrolled in the Special Society Unit with continued residence in the Los Altos. On August 8,1995, Father Kuechmann moved to St. Teresa's Residence at Maryknoll, New York, where he resided as a member of the Retirement Community until his final illness.
Father Kuechmann was an energetic and dedicated missioner, both in Japan and in the United States. During his 24 years at the Maryknoll Residence in Los Altos, Father Kuechmann was one of the most active residents. He carried out his pastoral ministry by celebrating his daily Mass with the Daughters of Charity and became perhaps the best known Maryknoller in the San Jose Diocese by celebrating weekend Masses in a number of local parishes. He also served in various parishes in a number of other places on the West Coast as well as in New Mexico, Arizona and Hawaii. In addition, the local Knights of Columbus and Lions Club benefited and were enriched by his priestly ministry. He was an accomplished musician, both on the organ for liturgical ceremonies and the piano for the enjoyment of many. He had many hobbies including arts and crafts. The many beautiful flowers around the Los Altos property were grown by Fr. Kuechmann in his greenhouse.
Wake services were held for Father Kuechmann at 7:00 p.m. on Monday, October 20, 1997, at the St. Teresa's Residence Chapel and at the Chapel of Our Lady Queen of Apostles at Maryknoll Center, New York, at 7:30 where Father John McKernan presided. Mass of Christian Burial was concelebrated on the following day in Queen of Apostles Chapel. The Principal Celebrant was Father James Lehr and the homily was given by Father James A. Jackson. Interment followed at Maryknoll Cemetery, where Father Jeremiah Burr conducted the graveside service.