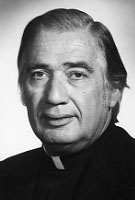 Father Thomas A. Depew, MM
Born: November 30, 1927
Ordained: June 11, 1955
Died: April 27, 1994
Father Thomas Andrew Depew died April 27. 1994, in the Center House in Caracas, Venezuela. He was 67 years of age and a Maryknoll priest for 39 years.
Thomas was born on November 30, 1927, in Pittsfield, Massachusetts, son of George Edward and Rose Major Depew, He had one brother, David. Thomas attended St. Joseph's Parochial School and three years at St. Joseph's High School.He entered Maryknoll Apostolic College (Venard), Clarks Summit,Pennsylvania, on July 2, 1945. He obtained his Bachelor of Arts degree in Philosophy and his Master of Religious Education degree at Maryknoll Seminary, in Ossining, New York. He was ordained a priest on June 11, 1955, at Maryknoll Seminary.
On June 12, 1955 Father Depew was assigned to the Maryknoll Mission in Huehuetenango, Guatemala. After language and cultural studies he was appointed assistant pastor of San Pedro Necta. In 1957 he became pastor of the isolated San Andreas Parish in Cuilco. He worked closely with the parishioners in the reconstruction of their parish church severely damaged by an earthquake. The people liked him and turned to him in their need. His Regional Superior wrote of him that "he is priestly in his manners and speech, neat in his personal appearance and orderly in his work. He is affable, has a good sense of humor, is not disturbed by adverse problems. He is well liked by his fellow priests and by his people. He is an intelligent administrator and good organizer. He is most faithful to Maryknoll.
In 1961, his Regional Superior wrote about him in appointing him to a new assignment, "Father Depew has a tremendous capacity for work. He is a very good procurator and accountant. I named him the Language School Director (in Huehuetenango). He is a good idea man and progressive." He also served as Director of Education and Treasurer for the Prelature. In 1964 he was appointed 2nd Consultor to the Regional Superior. He served a short time as pastor of the parish in Malacatancito.
On November 13, 1964 the Superior General, at the request of the Bishop of St. Cloud Diocese, appointed Father Depew to help a group of priests from the St. Cloud Diocese when they began their new mission work in Venezuela. He went to Caracas in February of 1965 and then in December of the same year was assigned permanently to the Maryknoll Mission Unit In Venezuela. He was appointed pastor of Santa Cruz Parish in Caracas. In 1968 he was transferred as pastor to Ascencion Parish also In Caracas. The people liked him and he spent a lot of time Improving the physical plant and being with the people. On January 1, 1969 he was appointed 1st Consultor to the Regional Superior and served for two terms. In 1973 he spent much time and effort in translating all the documents of Maryknoll's Sixth General Chapter (1972) into Spanish for use in all the Latin America missions.
On July 1, 1974 he was appointed Regional Superior of the Maryknoll Mission Region in Venezuela and served for one term. In 1977 he returned to routine parish work. He served again on the Regional Council during 1980 – 1986 as 2nd Consultor to the Regional Superior.
In 1985 he was assigned Chaplain to the Venezuela Lay Missioner Association, and assisted in the formation programs. An old house was purchased in the Urdaneta section of Catia,in Caracas. The house was renovated and Father Depew took up residence and apostolic work in the new Center for Formation of the lay missioners.
Some of his fellow priests remarked that throughout his ministry with people Father Depew was a remarkably compassionate and gentle man who had a surplus of warmth. He walked with people, listening and counseling them in their moments of crisis or need.
Funeral services and burial Friday for Fr. Depew took place on April 29, 1994, at the Maryknoll Mission Unit Center in Caracas. A concelebrated Memorial Mass for him was offered in Our Lady, Queen of Apostles Chapel at Maryknoll Center, New York on Wednesday, May 4, 1994. Father Thomas Keefe was principal celebrant and Fr. Leo Shea was homilist.