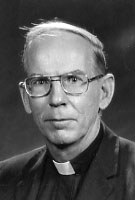 Father Thomas A. McBride, MM
Born: February 24, 1925
Ordained: June 8, 1957
Died: August 16, 1998
Father Thomas McBride died Sunday, August 16,1998. Father McBride was 73 years of age and a Maryknoll priest for 41 years.
Thomas McBride was born in McAdoo, Pennsylvania, on February 24, 1925, to John and Rose Coyle McBride, parents of nine boys and three girls. He completed St. Patrick's Elementary School in McAdoo and graduated from McAdoo High School in 1943. He entered the U.S. Navy where he was a Carpenters Mate 3rd Class in the SeaBees. He spent most of World War II in the Marianas in discharge from the service in 1946, he entered St. Charles Seminary in Philadelphia, but transferred to Maryknoll in 1950. While at Maryknoll Seminary he received his Bachelor of Arts in 1952 and his Master of Religious Education and Bachelor of Sacred Theology degrees in 1957. In 1969, he received a Master of Theology degree with Honors from San Francisco Theological Seminary of the United Presbyterian Church in the United States.
Father McBride was ordained on June 8, 1957, at Maryknoll, New York, and the following day was assigned to the Apostolic Vicariate of the Pando in Bolivia, South America, where he became involved in parish work. He was appointed to a three-year term as Alternate Consultor to the Superior of the Maryknoll Bolivia Region in 1962. He was assigned to Maryknoll College at Glen Ellyn, Illinois, as Assistant Guidance and Spiritual Counselor in May of 1967. In July 1969, he was assigned to the Maryknoll Bolivia Region and the following June he was named pastor of Cristo Rey Parish in Cochabamba. In April 1975, he was appointed Assistant to the Regional Superior for a three-year term. In 1976, he became Interim Administrator of the Pando Vicariate and was named Administrator by the Holy See in September 1977, a position he held until early 1983.
Father McBride was an elected delegate from the Bolivia Region at the Society's Eighth General Chapter in 1984. After the Chapter in March 1985, he was elected Assistant Regional Superior of the Bolivia Region.
In January 1993, he was assigned to the United States Region and the Development Department to work in the Gainesville, Florida, area. While in this position, as Director of the Gainesville House, Father McBride was elected Regional Superior of the Bolivia Region. He was reassigned to Bolivia and returned there to take up his new responsibilities on October 1,1995. As Bolivia Regional Superior, he attended the Society's Tenth General Chapter in 1996 in Hong Kong.
Father McBride returned to the United States in early August 1997, for medical treatment and in mid-September took up residence at St. Teresa's and had been living there since that time.
Father McBride always considered himself a pastoral person and felt most comfortable in that role. However, he demonstrated effective administrative abilities both as Administrator of the Vicariate and as Superior of the Bolivia Region. In the same manner, as an experienced missioner, he became a very successful Maryknoll Developer. When he completed his term as Administrator of the Vicariate, a General Council member wrote to him: "I want to send on my heartfelt congratulations to you for the really fine work you have done these past years as Apostolic Administrator of the Pando. During that time, the Vicariate has been strengthened not only in its pastoral vision and purpose but also by the increase of seminarians from the Pando. As the Vicariate enters a new phase, I am sure the people there will recognize that future progress is possible because of the strong foundations you have helped build."
Wake services were held on Thursday, August 20, at 7:00 p.m. in St. Teresa's Residence Chapel and at 7:30 p.m. in Our Lady Queen of Apostles Chapel where Fr. William Coy presided. Mass of Christian Burial was concelebrated on Friday, August 21, at 11:00 a.m. with his brother, Msgr. James P. McBride, as Principal Celebrant and homilist. Fr. Raymond Finch presided at the grave side services which followed in Maryknoll Center Cemetery.