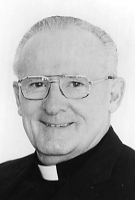 Father Thomas B. Killackey, MM
Born: April 17, 1925
Ordained: June 9, 1956
Died: April 30, 2008
Father Thomas Killackey died on April 30, 2008 at St. Teresa's Residence. He was 83 years old and a Maryknoll priest for 51 years.
Thomas Bernard Killackey was born on April 17, 1925 in New York City, New York, son of Thomas and Mary Gertrude Gibbons Killackey. He has one sister and five brothers, one of whom is Maryknoller, Father Edward Killackey. His uncle was also a Maryknoller, Father Joseph P. Gibbons, who also served in Hawaii. He attended Sacred Heart Grammar School, Yonkers, New York and in 1943 he graduated from Jona Preparatory High School in New Rochelle, New York.
He served in the Marine Corps for three years prior to entering Maryknoll from Sacred Heart Parish in Yonkers, New York in 1946. He received a B.A. degree in Philosophy from Maryknoll College, Glen Ellyn, Illinois in 1951, and an M.R.E. in Religious Education from Maryknoll Seminary, New York in 1956.
After ordination, on June 9, 1956, Father Killackey was assigned to the Hawaii Region where he served in several parishes. He began as an Assistant Pastor in St. Anthony's Church in Kailua, Oahu, then three years later, moved to St. Joseph's Church and School in Hilo, where he was Assistant Pastor and excelled at running the released-time program. For a short time, Father was Pastor of a small parish, St. Benedict's, in Honaunau, Kona before transferring to Sacred Heart Parish in Honolulu. In August 1968 he began work in Our Lady of Lourdes in Honokaa, where his talents would have more use, as he had a special interest and talent for confraternity work. In January 1975 Fr. Killackey was elected Third Regional Assistant of the Hawaii Region.
In July 1981, after 25 years in Hawaii, he was assigned to the U.S. Region and to the Development Department. He was based in the Cleveland Development House until January 1985 when he was once again assigned to Hawaii.
Father Killackey was elected as the official delegate from Hawaii to the Ninth General Chapter in 1990. He served in Sacred Heart Church, Waianae, Hawaii until July 1995 when he transferred to St. John Apostle & Evangelist in Mililani. Here he engaged in parish-based evangelization training of religious and laity for outreach to inactive Catholics and the unchurched of Hawaii.
Father Killackey was assigned to the Retirement Community in May 2007 and returned to Maryknoll Center in December 2007. Illness necessitated his move to St.Teresa's Residence in April 2008.
Wake services were held at 4:30 p.m. on May 5, 2008 at St. Teresa's and at 7:30 p.m. in Queen of Apostles Chapel at Maryknoll Center where Father Edward Killackey officiated and Father William Frazier read the biography. Mass of Christian Burial was concelebrated in Queen of Apostles Chapel on May 6, 2008 at 11:00 a.m. Father Clyde Phillips was principal celebrant and homilist. Among the concelebrants was Father Edward Killackey. Burial followed in Maryknoll Society Cemetery with Father John McAuley conducting the graveside service.