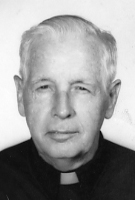 Father Thomas C. Higgins, MM
Born: February 7, 1924
Ordained: June 10, 1950
Died: June 1, 2004
Father Thomas Higgins died on June 1, 2004 at St. Teresa's Residence, Maryknoll, New York. He was 80 years old and a Maryknoll priest for 53 years.
Thomas Charles Higgins, one of five children of Charles and Margaret Brown Higgins, was born in Springfield, Ohio, on February 7, 1924. He attended St. Joseph Parochial School and Catholic Central High School in Springfield for two years before entering Maryknoll Junior Seminary in Cincinnati, Ohio on September 2, 1939. He later attended Maryknoll Junior Seminary (Venard), Clarks Summit, Pennsylvania, and Maryknoll Major Seminary, New York, and was ordained a priest on June 10, 1950.
After ordination, Father Higgins was assigned to Maryknoll's Mission in the Pando Vicariate of Bolivia, where he served for 40 years, interspersed with periodic home furloughs. During language studies in Arequipa he engaged in work in the prison in Arequipa, which led to many spiritual and material reforms for the benefit of the prisoners, for which he received a commendation from the President of Arequipa's Supreme Court. In 1952 he moved to Riberalta in the Pando Vicariate and did fine work among the people living along the banks of the Beni River. Father Higgins' humor and wonderful disposition were characteristic of his presence everywhere. On the Beni, of all places, he had a little daschsund he called, 'Nancy.' He taught Nancy to say Grace Before Meals and at mealtime Nancy would bow her head and join her paws before eating.
Showing the qualities of a good administrator and pioneer, in 1954 he was appointed Director of the Vicariate's new Industrial School, a professional school for boys and girls in Riberalta. While on one of his home furloughs, Father Higgins studied Education Administration and Social Studies in Cooperatives and upon his return to Bolivia he was appointed Director of the Blanca Flor Project entitled Cooperativa Integral Agropecuaria 'Blanca Flor' Ltda, and Pastor of Mission Cavinas. In 1966 he was appointed Pastor of San Antonio Parish in Riberalta. He was transferred to Cobija in January 1978, where he served as Pastor of Our Lady of the Pillar Church until January 1981 when he moved to Cotoca in the Santa Cruz Diocese. In 1984 was transferred to Mineros. Along with his pastoral duties, Father Higgins served for two terms as 2nd Consultor to the Society Superior for the Pando.
Father Higgins returned to the United States in 1990 and on December 1, 1994 was formally assigned to the Special Society Unit with residence at St. Teresa's, Maryknoll, New York. He assisted the Spanish-speaking parishioners of St. Francis of Assisi Church, Mt. Kisco, New York for a number of years in the 1990s, establishing two Legion of Mary groups while he was there.
Wake services were held at 4:30 p.m. on June 3, 2004 at St. Teresa's and at 7:30 p.m. in Queen of Apostles Chapel at Maryknoll Center where Father Patrick O'Donoghue officiated and Father James Lehr read the biography. Mass of Christian Burial was concelebrated in Queen of Apostles Chapel on June 4, 2004 at 11:00 a.m. Father Francis Diffley was Principal Celebrant and homilist. Burial followed in Maryknoll Society Cemetery with Father John McAuley conducting the graveside service.