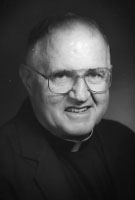 Father Thomas E. Danaher, MM
Born: November 3, 1934
Ordained: June 9, 1962
Died: August 13, 2012
Father Thomas Danaher died at Phelps Memorial Hospital, Sleepy Hollow, New York on August 13, 2012. He was 77 years old and a Maryknoll priest for 50 years, having celebrated his 50th Jubilee in June 2012.
Thomas Eugene Danaher was born in St. Joseph, Missouri, on November 3, 1934, to John B. and Lucy Clark Danaher. He grew up with four brothers and five sisters, along the bank of the Missouri River near the spot where Jesse James died, and where the Pony Express started for California. He attended Cathedral Grammar School and Christian Brothers High School and entered Maryknoll on September 5, 1952 at Maryknoll Junior Seminary (Venard), Clarks Summit, Pennsylvania, where he studied for one year before transferring to Maryknoll College in Glen Ellyn, Illinois, receiving a BA in Philosophy in 1957. He graduated from Maryknoll Seminary, Maryknoll, New York, where he received a MRE in Dogmatic Theology in 1962.
Father Danaher was ordained on June 9, 1962 and assigned to Formosa (which included Hong Kong and is presently called the Taiwan Region). After a year of language study in Stanley, Hong Kong, he was assigned as Associate Parish Priest at Our Lady of Nativity Park in Tung Tau Tsuen,Kowloon where he served for two years before moving to St. Peter in Chains Parish in Kowloontsai, Kowloon. While in Kowloontsai, Father Danaher was Chaplain for the Young Christian Workers. In 1974 then Bishop, later Cardinal, John Baptist Wu and the Young Christian Workers asked Father Tom to serve as Chaplain of the National Team. He tried to find a Chinese priest to fill this post, but when none was available, he accepted the assignment. He worked diligently to improve and change the structures of society that hinder the workers from living in dignity and fulfilling the role that God gave them. When he became Chaplain, he found many ways in which to help them, encouraging them by his presence and support. In 1969 Father was transferred to the newly created Caritas Centre at Ngau Tau Kok, Kowloon.
After four years, Father Danaher moved to Kwun Tong Pastoral Center and one year later was appointed Pastor of Immaculate Heart of Mary Parish and then Assistant Pastor of Resurrection Parish. In 1976 he was assigned to work as Asian correspondent with the Maryknoll magazine, while living at St. John's Parish in Kwun Tong.
From 1981 to 1991 Father Danaher worked in the United States, Chile, and Hong Kong. He spent three years working in the Development Department, assigned to Denver, Colorado, and three years in Chile, assigned to the poor working-class Parish of La Pincoya in Santiago's northern zone. He was assigned to the U.S. January 1, 1987 to prepare for an assignment as an Asian representative with the Social Communications Department, living in Hong Kong. In January 1988 Father Danaher was again assigned to Hong Kong.
In May 1994 he was assigned to the Development Department, again working in Denver Colorado, where he covered 11 states and 7 dioceses. Father Danaher was assigned back to Hong Kong in May 1997.
Upon his return to Hong Kong, he worked as Assistant Pastor in St. Matthew the Apostle Parish,in Tue Mun in the New Territories of Hong Kong. Here he worked primarily with the many migrants coming, especially from the Philippines, to find work in Hong Kong. He also visited and said Mass at the Tai Lam Women's Prison.
In January 2010 Father Danaher was granted assignment to the Retirement Community and returned to Maryknoll, New York. In August 2010 he moved to Colorado to be near his sister and in September, moved to the Maryknoll Residence in Los Altos, California and was residing at St. Teresa's Residence, Maryknoll, New York at the time of his death.
Wake services were held at 4:30 p.m. on August 20, 2012 at St. Teresa's, and at 7:30 p.m. in Queen of Apostles Chapel at Maryknoll Center where Father John J. Casey officiated and Father Alfonso Kim read the biography. Mass of Christian Burial was concelebrated in Queen of Apostles Chapel on August 21, 2012 at 11:00 a.m. Father Robert Lloyd was Principal Celebrant and Father Donald Doherty homilist. Burial followed in Maryknoll Society Cemetery with Father Edward Dougherty conducting the graveside service.