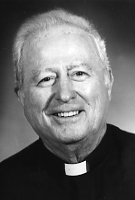 Father Thomas E. Lavelle, MM
Born: February 1, 1926
Ordained: June 11, 1955
Died: July 17, 2009
Father Thomas E. Lavelle died at St. Teresa's Residence, Maryknoll, New York on July 17, 2009. He was 83 years old and a Maryknoll priest for 54 years.
Thomas Edmund Lavelle was born February 1, 1926, in New York City, the son of Dr. William I. Lavelle and Katherine Dwyer Lavelle. He had five brothers and three sisters. Father Lavelle grew up in Astoria, Long Island, New York, where he attended Our Lady of Mt. Carmel grade school. He graduated from St. Francis Xavier High School in Manhattan in 1943. He entered Maryknoll in September of that year, but left in October 1945 to serve in the U.S. Army in the Philippines and Okinawa and was honorably discharged in December 1946. He re-entered Maryknoll in February 1947 and was ordained on June 11, 1955.
After ordination, Father Lavelle was assigned to the Mexico Region. Once he completed Spanish language studies and had served in a parish in Merida for a couple of months, he was sent to serve the Mayan Indians for 12 years in the center of the Yucatan Peninsula. From 1969 until 1996 he ministered to about 10,000 Yucatecans in the parish of St. Clare in the town of Dzidzantun, about fifty miles northeast of Merida. The people are very interested in the education of their children, and strive to have higher education available in their own town instead of sending their children to other parts of Mexico to be educated. As a result, students come from neighboring towns to study there. Father Lavelle, using donations from benefactors, built a home to accommodate 25 girls, with a couple of religious sisters to watch over them. In 1992 Father Lavelle was appointed Regional Superior for Mexico.
After 27 years in Dzidzantun, Father Lavelle was sent to work in the parish of St. John the Baptist, residing in Dzibalchen and serving eleven other Indian towns. He was asked by the Bishop of Campecha to serve as confessor in the Cathedral of Campeche, which he did for one year.
Father Lavelle was assigned to the Retirement Community on September 1, 2004, but continued to do pastoral work in Dzidzantun, helping the Yucatan pastor, and living in the Church of Guadalupe, which was built while he was pastor of the parish. He remained in Mexico until February 2006, when he moved to St. Teresa's Residence.
Wake services were held at 4:30 p.m. on Wednesday, July 22, 2009, at St. Teresa's, and at 7:30 p.m. in Queen of Apostles Chapel at Maryknoll Center where Father Thomas Saunders officiated and Brother Andrew Marsolek read the biography. Mass of Christian Burial was concelebrated in Queen of Apostles Chapel on July 23, 2009, at 11:00 a.m. with Father Thomas McDonnell, as Principal Celebrant and Father James Hilgeman, as homilist. Burial followed in Maryknoll Society Cemetery with Father Paul Masson conducting the graveside service.