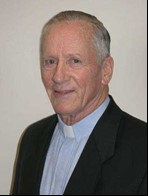 Father Thomas F. Donnelly, MM
Born: December 6, 1927
Ordained: June 8, 1957
Died: April 2, 2020
Father Thomas F. Donnelly died on April 2, 2020 at the Maryknoll Assisted Living Center at Maryknoll, NY.  He was 92 years old and a Maryknoll priest for 62 years.
The youngest of four children, Thomas Francis Donnelly was born in Philadelphia, PA on December 6, 1927, son of John and Katharine McMahon Donnelly.  After graduation from La Salle High School in 1945, he attended Villanova College for one year.  While serving in the United States Navy (1946-1947), he was privileged to serve at the first Mass ever celebrated in Antarctica.
He entered Maryknoll in June of 1948 and was ordained at Maryknoll, NY on June 8, 1957.  Fr. Donnelly was assigned to the Tanzania Region.  There, he ministered to the Luo people of the Musoma Diocese until 1970.
After a year in Development work in the New York City area, Fr. Donnelly returned to Tanzania.  In 1973, he was assigned to the Kenya Region, where he was one of three Society Members working in the Burnt Forest Parish of Eldoret Diocese, 150 miles west of Nairobi.
In 1982, Fr. Donnelly was assigned to the United States Region and the Development Department.  He worked for four years in the Maryknoll Development Houses in Houston and Seattle.  Fr. Donnelly returned to Kenya in January 1987, working with various peoples of the Dioceses of Mombasa and Machakos.  In October 1989, he was appointed Third Assistant to the Regional Superior of the Kenya Region.
In May 1995, Fr.  Donnelly was assigned to the Hawaii Region, where he served for almost eleven years in pastoral ministry. He first served at Sacred Heart Parish, Oahu, then at Sacred Heart Parish, Hawi Town, and finally at Annunciation Parish, Kamuela on the Big Island of Hawaii.  He was assigned to the Retirement Community (now the Senior Missioner Community) in September 2000.
Fr. Donnelly remained in Hawaii until September 2006, when he moved to the Maryknoll Residence in Los Altos, CA.  In June 2018, he took up residence at the Society Center in Maryknoll, NY.
A Memorial Mass was celebrated in Queen of Apostles Chapel on April 6, 2020.  Fr. Joseph M. Everson III, MM, Vicar General, was Celebrant and homilist, and Fr. John McAuley, Superior of the Senior Missioner Community, was Lector and read the biography.  Burial followed in the Maryknoll Society Cemetery.