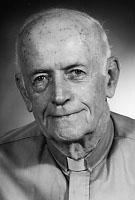 Father Thomas F. Garrity, MM
Born: September 1, 1920
Ordained: June 9, 1946
Died: September 27, 2005
Father Thomas F. Garrity died at St. Teresa's Residence, Maryknoll, New York on September 27, 2005. He was 85 years old and a Maryknoll priest for 59 years.
Thomas Francis Garrity was born September 1, 1920, in Waterbury, Connecticut, one of six children of Frank and Margaret Nash Garrity. His sister, Rosemary, is a Maryknoll sister who worked in Mexico. He attended St. Mary's parochial school and Crosby High School in Waterbury, before entering Maryknoll in September 1937. Father Garrity was ordained at Maryknoll, New York on June 9, 1946.
After ordination, Father Garrity was assigned to Promotion work, first in Pittsburgh, Pennsylvania, then in Akron, Ohio; New Orleans, Louisiana; and finally in Chicago, Illinois. In April 1952 he was assigned to missionary work in Peru. After four years working with the Aymara in Puno, he was assigned to open a new parish in the city of Lima, subsequently dedicated to Our Lady of Guadalupe, Patroness of the Americas. The parish church has since been named a national shrine by the Archdiocese of Lima. Remaining there for twenty years, Father Garrity turned the parish over to a young diocesan priest who is now the Archbishop of Huancayo, Peru.
From 1976 until 2000, Father Garrity was associated with the Peruvian Mission Association, which he was instrumental in founding. He served as Ecclesiastical Advisor to the Association, which is composed principally of lay missioners. In 1992, he took a small group of these missioners to work primarily with the many Latin American and Peruvian immigrant workers in Lima, Peru in 1994. Although retired in 1997, Father Garrity continued to work in Peru until December 2000, when he returned to the United States and took up residence at St. Teresa's.
Wake services were held at 4:30 p.m. on September 29, 2005 at St. Teresa's, with Fathers Louis Wolken and Alphonse Schiavone officiating, and at 7:30 p.m. in Queen of Apostles Chapel at Maryknoll Center where Father William McCarthy officiated and Father Carmen La Mazza read the biography. Mass of Christian Burial was concelebrated in Queen of Apostles Chapel on September 30, 2005 at 11:00 a.m. Father Charles Cappel was Principal Celebrant and Father Ernest Lukaschek homilist. Burial followed in Maryknoll Society Cemetery with Father Clyde Phillips conducting the graveside service.