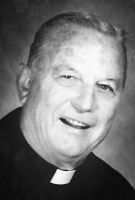 Father Thomas F. Gibbons, MM
Born: May 1, 1921
Ordained: June 12, 1948
Died: April 9, 2012
Father Thomas F. Gibbons died on April 9, 2012 at St. Teresa's Residence, Maryknoll, New York. He was 90 years old and a Maryknoll priest for 63 years.
Thomas Francis Gibbons, the youngest of five children of Michael and Mary Tuffy Gibbons was born in Philadelphia, Pennsylvania on May 1, 1921. His godfather, Father Thomas Walsh, later entered the seminary and was ordained a priest in 1938. In fifth grade, he read his first Maryknoll book, Father McShane of Maryknoll, which was purchased at Maryknoll for him by his cousin. He graduated from South East Catholic High School and entered Maryknoll Junior Seminary at Clarks Summit, Pennsylvania on September 7, 1939. He was ordained a priest June 12, 1948 at Maryknoll, New York.
After ordination Father Gibbons was assigned to Maryknoll's Tanzania Region and served in the Musoma Diocese. In that Diocese, he spent nine years at Iramba Mission.
In 1955 Father Gibbons was assigned to the United States during which time he was appointed Director for the group of Auxiliary Brothers at Bedford, Massachusetts, and in 1956 he was Chaplain at St. Joseph's Hospital in Elmira, New York and later worked in Sacred Heart Parish in Mt. Vernon, New York.
In 1960 Father Gibbons returned to Tanzania and worked in the Kilulu Catholic Mission in Shinyanga Diocese for seven years until he returned to the United States in July 1967. In September 1968 he began what was to become a very long-term commitment to work at Holy Family Parish in Philadelphia, Pennsylvania. Although enrolled in the Special Society Unit on May 1, 1977, Father continued in parish work at Holy Family until December 2001, when he moved to St. Teresa's. He was assigned to the Retirement Community in February 2001.
Wake services were held at 4:30 p.m. on April 12, 2012 at St. Teresa's, and at 7:30 p.m. in Queen of Apostles Chapel at Maryknoll Center where Father J. Ernest Brunelle officiated and Father Edward Davis read the biography. Mass of Christian Burial was concelebrated in Queen of Apostles Chapel on April 13, 2012 at 11:00 a.m. Father Thomas McDonnell was Principal Celebrant and homilist. Burial followed in Maryknoll Society Cemetery.