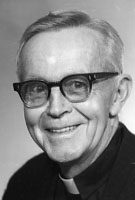 Father Thomas F. McDermott, MM
Born: July 23, 1917
Ordained: June 11, 1944
Died: January 30, 1999
Father Thomas F. McDermott died of pneumonia at St. Teresa's Residence in the evening of January 30, 1999. He was 81 years old and a Maryknoll priest for 54 years.
Thomas was born on July 23, 1917, in Bridgeport, Connecticut, son of Thomas F. and Kathryn McCormick McDermott; he had 3 brothers and 1 sister. He graduated from St. Stephen's Parochial School in June 1931, and entered Maryknoll Apostolic College (Venard), Clarks Summit, Pennsylvania, on September 5, 1931 and passed on through philosophy and theology courses to ordination to the priesthood at Maryknoll Seminary, Ossining, New York, on June 11, 1944.
Father McDermott was assigned to the Maryknoll Mission in Temuco, Chile, South America on May 8, 1944. After Spanish language and cultural studies in which he excelled, he was appointed Assistant Pastor of the Galvarino parish, a small country town with about 9,000 people and with four outlying mission stations. In April 1946 he was appointed Pastor of the same parish. During his six years as Pastor Father McDermott built a model primary parochial school and brought in Maryknoll Sisters to staff the school.
In April of 1953 he was appointed Pastor of the parish in Licanten, newly accepted by Maryknoll, with one outlying station in Iloca. Again he worked tirelessly to improve the parish. On December 1, 1956, Father McDermott was appointed Regional Superior of the Chile Region for a term of five years; and on October 28, 1961 reappointed Regional Superior for a second term of office. He participated in the 1966 General Chapter at Maryknoll, New York. In January of 1967 he returned to parochial ministry as Assistant Pastor in the Hualpencillo parish.
While home on furlough in 1969 he studied Clinical Pastoral Education techniques at Connecticut Valley Hospital. In May of 1970 he returned to Chile and served in San Miguel Parish in Talcahuano. Father McDermott was recalled to the United States on May 7, 1972 for medical reasons and recuperation. While on sick leave, he was assigned, temporarily, to assist the Administrator of the Society Personnel Office in special work. He returned to Chile in December 1975 and remained there until May 1977 when he returned to the United States.
On March 28, 1979 Father McDermott was assigned to the U.S. Region and appointed to assist the Administrator of St. Teresa's Residence at Maryknoll, New York. On his 70th birthday, July 23, 1987, Father McDermott was formally enrolled in the Special Society Unit However, he continued serving the St. Teresa's Community in a pastoral role among his fellow priests and brothers at the Residence; and just simply "being one" with the sick and elderly and not just "doing something" for them, until 1994, when his health forced him to retire.
Wake services were held at 7:00 p.m. on Tuesday, February 2, 1999 at St. Teresa's and at 7:30 p.m. at Queen of Apostles Chapel at Maryknoll Center where Father Stephen De Mott presided and Brother John Argauer read the biography. Mass of Christian Burial was concelebrated at Queen of Apostles Chapel on February 3, 1999 at 11:00 a.m. Father Charles Girmus was Principal Celebrant and Father Thomas Kirchmyer homilist. Burial followed at Maryknoll Center Cemetery with Father Richard Callahan conducting the graveside service.