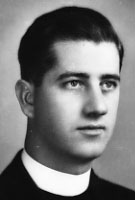 Father Thomas F. Wynne, MM
Born: August 24, 1915
Ordained: February 7, 1943
Died: March 16, 1962
Thomas F. Wynne was born in Brooklyn, New York on August 24, 1915. He was graduated from Xavier High School in Manhattan in 1933 and in September of that year entered the Venard. He was ordained on February 7, 1943 and assigned to Ecuador.
He arrived in Guayaquil in August and after language study was assigned as assistant at the parish of Palenque where he became pastor the following year. In February of 1946 he was appointed Procurator of the Guayaquil house and a year later made pastor of the parish at Quevedo. When the Ecuador Mission was closed in l948, Father Wynne was assigned to Chile. There he was assistant Director of the Leo XIII Institute for boys and became Director during the furlough of Fr. James Manning. He then was curate at Huachipato and at San Alberto Parish in Santiago.
On March 3, 1962 Father Wynne fell suddenly ill. The following day, as his condition became more critical, he received the Last Sacraments. He seemed to improve for a while but on March 12, his condition worsened and he never regained his strength.
Father Wynne died in the Catholic University Hospital in Santiago, Chile on March 16, 1962. The funeral was held on March 19 and he was buried in Santiago.