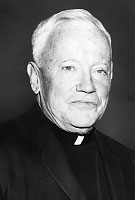 Father Thomas G. Ray, MM
Born: August 29, 1900
Ordained: June 19, 1927
Died: October 28, 1989
Father Thomas Goodwin Ray died at the Shaughnessey-Kaplan Rehabilitation Hospital, Salem, Massachusetts. He was 89 years old and a Maryknoll priest for 62 years.
Thomas Ray was born in Peabody, Massachusetts on the 29th day of August, 1900, son of Michael Ray and Flavia Goodwin. He had two brothers. After public grammar school he went to St. John's Preparatory School in Danvers and then to Boston College, being graduated with a BA Degree in 1922. He entered St. John's Seminary in Brighton to study for the Archdiocese of Boston. He wrote that he was attracted early to the missionary priesthood. He heard much about our Founder, read the Field Afar and decided to join Maryknoll, entering in 1924. He obtained a Bachelor of Sacred Theology from Catholic University in Washington, D.C. and was ordained on June 19, 1927.
Father Ray was assigned first to the faculty at the Venard for a year and then to Peng Yang, Korea, where he served for the next six years. Living and working in the Gishu mission he quickly learned the language and managed well anything asked of him. His letters home to the Superior General were full of his happiness in being with the people and his enthusiasm for mission work. After 2 years any new missioners arriving were assigned to him and he was their language teacher and guide.
In 1934 he was recalled to the Center to serve on the Venard faculty, then after a year he transferred to the Seminary faculty in New York and served for 19 years. He taught Chinese characters and homiletics. While he recognized that he was not an enthusiastic teacher, he did take a keen interest in the seminarians and helped them a great deal in their sermon preparation and delivery. He enlivened his classes with accounts of his mission experiences in Korea as well as his Sunday morning conversations with the man who drove him to St. Patrick's Church. He also served as one of the Seminary Spiritual Directors and engaged in much pastoral work at St. Patrick's in Bedford Village. From 1937 to 1941 he was the Director of the Brothers at the Center. In 1954 he was appointed Second Consultor to the Rector.
Father Tom remained on the Center Faculty until 1957 when he was assigned to promotion in Brookline, serving there for the next 25 years. He was a good preacher and received many complimentary letters about his talks in the churches and schools throughout New England. He developed an excellent rapport with the diocesan priests, especially those in Boston. He was a no-nonsense, down-to-earth person who was concerned with the everyday problems of the people.
Due to advancing age he decided to retire and in 1979 moved out of Chestnut Hill into St. John the Baptist Rectory in Peabody, his home parish. He was enrolled in the Special Society Unit in October of that year and remained semi-active in St. John's for the next ten years.
Wake services were in him home parish on October 31. The funeral Mass was on November 2, followed by interment in his family's plot in St. Mary's Cemetery, Danvers. At the Center a memorial Mass was offered on November 3.