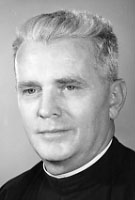 Father Thomas J. Brack, MM
Born: August 4, 1911
Ordained: June 11, 1939
Died: September 3, 1995
Rev. Thomas J. Brack at El Camino Hospital, Mt. View, California, at 10:45 P.M., Sunday evening, September 3, 1995. He was 84 years of age and a Maryknoll priest for 56 years.
Thomas Joseph Brack was born in Fitchburg, Massachusetts, on August 4, 1911, son of Thomas and Margaret Filan Brack. His early schooling took place in the Fitchburg schools. He received a Bachelor of Arts Degree, magna cum laude, at Holy Cross College, Worcester, Massachusetts, in 1933, and continued his studies at the Grand Seminary in Montreal, Canada, for two years. He entered the Maryknoll Novitiate on September 1, 1935. He took his Final Oath on June 7, 1939 and was ordained a priest on June 11, 1939.
After ordination, Father Brack was assigned to the Maryknoll Mission in the Wuchow Vicariate, South China. During World War II he remained in China and served first as pastor of the mission in Taiwan, and later in Chungking. Among Father Brack's pastoral duties was service to the U.S. military personnel in that area, for which he was awarded the Emblem for Meritorious Civilian Service. He was named Procurator of the Maryknoll Society's Stanley House in Hong Kong in January 1946. Father Brack returned to the United States on furlough in September 1948. His talent in financial matters was recognized by his Superiors and he was selected to serve as the Society's first Controller at Maryknoll, New York. Father Brack held the position of Controller for 14 years. On March 2, 1962, he was appointed Treasurer General of the Society and served in that capacity for seven years.
On September 1, 1969 Father Brack became the Director and Superior of the Maryknoll Residence, Los Altos, California. He served as Chapter Delegate at the 6th General Chapter in 1972. In August of 1973 Father Brack was assigned to the Hawaii Region where he served as pastor of Sacred Heart Parish, Pahoa, on the Island of Hawaii.
It was no secret the ability and gifts Father Brack had in the area of finances. The Superior General wrote in 1969 to Father Brack after 7 years as Treasurer – "I do not believe that I am exaggerating one bit when I say that there is probably no other man in the Society who has the financial acumen and the background and experience which you have evidenced over the long years you have spent in the Treasury Department. I do not believe it is at all unfounded to say that all Maryknollers have admired the dedicated way in which you helped make the Treasury Department the well developed and sound Department that it is today… I, personally, have always been amazed at and confident in the knowledge you have displayed on financial matters, and your keen and dedicated concern for the best interests of the Society."
Father Brack requested retirement in 1975 and was assigned to the Special Society Unit effective June 25, 1975 with residence at the Maryknoll Residence, Los Altos, California. He was elected Chapter Delegate for the Special Society Unit for the 7th General Chapter in 1978 and the 8th General Chapter in 1984. He remained active and enjoyed his retirement up until the time of his death.
Wake Services for Father Brack were held at the Maryknoll Residence, Los Altos, California on Wednesday, September 6, 1995 at 8:00 P.M. presided over by Father Gilbert J. DeRitis. His funeral Mass was held on Thursday, September 7, 1995 at 11:00 A.M. with Father Joseph J. O'Neill as principal celebrant and homilist. Burial was at the Maryknoll Cemetery, Los Altos, California.