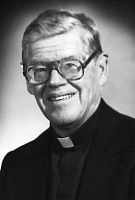 Father Thomas J. Burke, MM
Born: July 3, 1927
Ordained: June 11, 1955
Died: May 28, 1999
Father Thomas J. Burke died at St. Teresa's Residence on Friday morning, May 28, 1999. Father Burke was 71 years of age and a Maryknoll priest for 44 years.
Thomas was born in New York City on July 3, 1927, the son of Thomas F. Burke and Agnes Keane Burke. His mother will celebrate her 100th birthday in August; his father passed away in 1958. Thomas attended Incarnation grade school and Power Memorial Academy in New York City. He entered Maryknoll in 1944 and received a B.A., an M.R.E. and an S.T.B. from Maryknoll Seminary.
Upon ordination on June 11, 1955, Father Burke was assigned to the Shinyanga Diocese in Tanzania, East Africa, where he first worked as an associate pastor. In 1957 he was assigned to the staff of Makoko Seminary in Musoma Diocese and became rector in 1957. In June 1961 he was assigned to the Maryknoll Junior Seminary (the Venard) in Clarks Summit, Pennsylvania as Spiritual Director.
When he returned to Shinyanga Diocese in July 1962, he was the first pastor of a new mission, Ilumya. He later served as pastor of a neighboring mission, Chamugasa. In 1967, he was assigned as pastor of Maryknoll's first urban parish in Dar Es Salaam, Tanzania. In 1974, he served at Jericho Parish in Nairobi and was a member of the Archdiocese of Nairobi youth team, conducting workshops and seminars for high school students and parish youth groups in the city.
When Kenya became a separate Region in 1979, he was appointed Assistant Regional Superior and was the Director of the Kenya Region's first Overseas Training Program. In 1985 he was again appointed Assistant Regional Superior. During those years he was also working at an outstation in the newly built housing estate, Buru Buru, which became a parish in 1985 with Father Burke as its first pastor. The church and the rectory were completed in 1987. He invited members of the Philippine Lay Missioner Program to join the Parish Team and to help develop its Small Christian Community's program.
In 1991, he began construction of a school of Fine Art for high school graduates who were jobless. The aim of the school was to help students find employment or to become self-employed. The Buru Buru Institute of Fine Art opened in May 1993 and offers a two-year diploma course in Fine Art.
By 1993, the Buru Buru parish was self-reliant and handed over to the Cardinal who assigned a diocesan priest as pastor. Father Burke continued to assist in the parish until illness forced his return to the United States. He took up residence at St. Teresa's in April 1999.
Wake services were held on Tuesday, June 1, 1999 at 7:00 p.m. at St. Teresa's Residence Chapel, and at 7:30 p.m. at Queen of Apostles Chapel at Maryknoll Center where Father Thomas Keefe officiated. Mass of Christian Burial was concelebrated at Queen of Apostles Chapel on Wednesday, June 2, 1999 at 11:00 a.m. Father Thomas McDonnell was Principal Celebrant and Father Carroll Houle homilist. Burial followed at Maryknoll Center Cemetery with Brother Wayne Fitzpatrick conducting the graveside service.