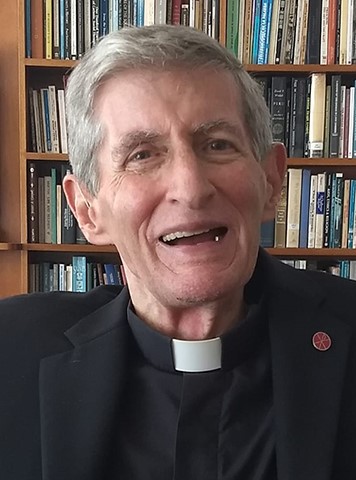 Father Thomas J. Burns, MM
Born: October 24, 1942
Ordained: May 24, 1969
Died: June 18, 2022
Father Thomas J. Burns died on June 18, 2022 at Phelps Memorial Hospital in Sleepy Hollow, New York.  He was 79 years old and a Maryknoll priest for 53 years.
Thomas Joseph Burns was born on October 24, 1942 in Queens, New York, son of Thomas and Bridget McNamara Burns.  He had two brothers and one sister.  After graduation from Our Lady of the Cenacle Parochial School in June 1956, he entered Maryknoll Junior Seminary (Venard) in Clarks Summit, Pennsylvania on September 6, 1956.  Tom received a Bachelor of Arts in Philosophy at Maryknoll College, Glen Ellyn, Illinois in 1964, and a Bachelor of Divinity in 1968 as well as a Master of Arts in Theology in June 1969 at Maryknoll Seminary in Ossining, New York.  In the summers of 1966 to 1968, he studied Community Development at the University of Missouri in Columbia, Missouri, and during his Deacon year (1968) he participated in civil rights ministry with the Interfaith Council for Action in the Ossining area.
After ordination on May 24, 1969, Father Burns was assigned to the Peru Region, where he spent all of his missionary life.  He completed Spanish language studies at the Maryknoll Language School in Cochabamba, Bolivia, and after a five-month orientation program in Puno, Peru, in 1970 he was appointed Assistant Pastor in San Pedro Parish in Juli, Puno.  In January of 1974 he had to leave Puno for reasons of health and was assigned to the Niño Jesús Parish in Ciudad de Dios (City of God), south of Lima.  Father Burns remained in southern Lima thereafter.
In 1976 Father Burns became the Maryknoll Society's Coordinator of Justice and Peace in Peru.  In 1977 a Joint Global Concerns Commission (with the Maryknoll Sisters) was formed in Peru in order to develop a common witness.  Between 1979 and 1988 Father Burns gave testimony before the Banking Subcommittee of the U.S. House of Representatives, as well as Senate Banking and Foreign Relations Committees, on the effect of debt payment and the International Monetary Fund's economic adjustment policies on the poor, policies resulting in unemployment, hunger, malnutrition, TB and cholera.  He published several articles on the social and economic situation of the poor people of Peru, some of which were published in the New York Times as well as the Republica, Signos, and Paginas in Peru.
In the 1980s and early 1990s Peru lived through a war of terror launched by the Shining Path and responded to by the military, often with scorched earth policies resulting in close to 70,000 deaths.  Peru's poorest were caught in between – 90% of the victims were non-combatants.  In the midst of this war Maryknoll's Global Concerns Commission actively participated in the development of the Coordinadora Nacional de Derechos Humanos, to this day Peru's very highly respected Human Rights Commission.
Upon his 25th anniversary and as the war was ending, Father Burns took a study sabbatical.  Between September 1994 and June 1996 he studied cross-cultural ministry at Catholic Theological Union in Chicago, receiving a Doctor of Ministry and returning to Lima at the end of 1996.  In 1998, he became the pastor of Santa Isabel Seton parish and the coordinator of the Lurin Diocese's Ongoing Formation Program for the Laity, a ministry which he continued for many years.  Father Burns considered it a high point of his mission career when Mons. Jose Ramon Gurruchaga of the Diocese of Lurin, South Lima asked him to begin this work.  He was also a member of a Diocesan Team formed in 2004 to develop a 20-year diocesan pastoral plan, and was named Spiritual Adviser for Peru's first Diocesan Lay Council.  Father Burns was the coordinator of the PQNSR-LS (Para que no se Repita –Lima Sur"), part of a national movement founded to assure reparations for the war victims.  He also helped to run an after-school program in Lima's poorest side of town that protected children from gangs and street violence.
In September 2008, Father Burns received first honorable mention in the Peace Prize awarded by the Government Ministry of Women and Social Development for his work in civil society; and on December 10, 2008 the Coordinadora Nacional de Derechos Humanos chose the Maryknoll family in Peru for its 2008 National Human Rights Award.
Father Burns was appointed to Senior Missioner Status in the Latin America Region in May 2016.  He continued to reside in Lima and work in the ongoing formation of the Laity until August 2019, when he was assigned to the Senior Missioner Community and returned to Maryknoll, New York.  When asked at the time of his fiftieth Jubilee what he would like people to understand about mission, Father Burns said "that it is mainly about encouraging everyone to be involved in mission and committed to those who are most in need; that we are all called to be 'liberators'."
Wake services were held on June 22, 2022 in the Holy Spirit Chapel and the Queen of Apostles Chapel at the Maryknoll Society Center.  Mass of Christian Burial followed at 11:00 a.m. and was concelebrated in the Queen of Apostles Chapel.  Father Joseph Fedora was the Celebrant and Father Michael Briggs was homilist.  Brother John Blazo read the biography and Father Francis Felter read the Oath.  According to his wishes, Father Burns will be cremated and his ashes will be placed in the Maryknoll Society Columbarium.