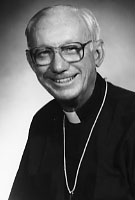 Father Thomas J. Maney, MM
Born: May 1, 1925
Ordained: June 9, 1956
Died: April 22, 2004
Father Thomas J. Maney died in the Military Hospital in Quito, Ecuador on April 22, 2004. He was 78 years old and a Maryknoll priest for 47 years.
Thomas Joseph Maney was born on May 1, 1925 in Ames, Iowa, son of Thomas J. and Lois Rath Maney. He had two brothers. He attended St. Cecilia's Parochial School and graduated from Ames High School. After graduation he enlisted in the Army Air Corps School and served as a Radar Officer Navigator in World War II. He had 21 missions on B-29s over Japan and was stationed on Tinian Island where he saw missioners at work and thoughts of a priestly vocation arose.
After being Honorably Discharged in December 1945, he attended Iowa State University for two and one half years. On a spiritual retreat in April 1948, he decided to go to the Seminary at Loras College, Dubuque, Iowa. While studying Philosophy, he finished his B.A. in Economics in 1950 and joined Maryknoll in September of that year.
Father Maney was ordained on June 9, 1956 by Cardinal Speilman at Maryknoll, New York. He received a Masters Degree in Religious Education at Maryknoll, and in 1972, a second Masters from Loyola University, Chicago, Illinois.
After ordination, Father Maney was assigned to the Chile Region. He spent eleven and a half years as a curate and pastor of Licanten, Diocese of Talca. Here he began his work in forming Basic Church Communities, which was to lead him to his life's commitment. He became Episcopal Vicar of the coastal parishes and then Secretary General and Assistant to the Bishop of the Talca Diocese. While active in the apostolate, he also did Church construction, formed work cooperatives, and helped with the recuperation of alcoholics.
In 1975, with Franciscan Sister Joan Gerads, he co-founded Parish Neighborhood Renewal Ministry, Inc. for the restructuring of parishes through small Basic Church Communities. In 1976, after much tension and a massive heart attack, Fr. Maney transferred to the Venezuela Region and in 1979, he was assigned to the United States Region where he continued his parish renewal work in the Diocese of Duluth, Minnesota.
Father Maney returned to South America in 1981. Since that time, his organization has worked in the Mexico, Venezuela, Colombia, Ecuador, Peru, Bolivia and Chile. Presently the center of operation is Quito, Ecuador, where in Cumbaya, a Center for Missionary Vocations has been built.
On January 1, 2000, Father Maney was assigned to the Retirement Community, but continued his residence in Ecuador.
Wake services were held at St. Peter's parish in Cumbaya on April 28, 2004. The funeral Mass was held on April 29th, presided over by his Eminence Antonio Jose Cardinal Gonzalez Zumarraga. Father Maney was buried in the parish cemetery in Cumbaya. A memorial Mass will be held at Maryknoll Center.