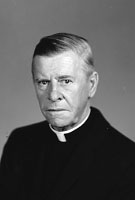 Father Thomas J. Plunkett, MM
Born: January 7, 1900
Ordained: June 19, 1927
Died: August 31, 1972
Thomas J. Plunkett was born in Fall River, Massachusetts on January 7, 1900. He attended Sacred Heart and St. Patrick Schools there. After the death of his parents he spent nine years in St. Vincent's Home for Orphans in Fall River.
He entered the Venard in 1916 and was ordained to the priesthood on June 19, 1927. He was assigned to Korea and worked for fifteen years there, mostly in Yeng You, until he was interned by the Japanese and later repatriated in 1942 on the Gripsholm. In November of that same year he was assigned to Chile to lend his experience to the young missioners who were opening up new fields in that country.
In 1945 he was assigned again to Korea but this did not eventuate because of unsettled conditions. He helped out in various parishes and in 1947 was reassigned to Chile where he worked until his recall to the states for health reasons.
On August 31, 1972 Father Plunkett passed away at the Catholic University Clinic in Santiago, Chile.
A funeral Mass was celebrated at Maryknoll. Father General was the principal celebrant and Fr. James Sheridan gave the homily. Father Plunkett was buried in Chile.