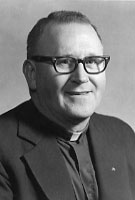 Father Thomas J. Prendergast, MM
Born: June 26, 1923
Ordained: June 12, 1948
Died: July 9, 1995
Father Thomas J. Prendergast died at St. Patrick's Rectory, Jacksonville, Florida, on Sunday morning, July 9, 1995. Father Prendergast was 72 years old and a Maryknoll priest for 47 years.
Thomas John Prendergast was born on June 26, 1923 in Utica, New York, son of John H. Prendergast and Catherine Murphy Prendergast. He had two brothers and one sister. His early education through high school was at Utica Catholic Academy and he attended Niagara University where he earned a degree in Liberal Arts. He entered Maryknoll at the Maryknoll Novitiate in Bedford, Massachusetts on September 1,1943. Thomas was ordained a priest at Maryknoll, New York, on June 12, 1948.
At ordination, Father Prendergast was assigned to the Maryknoll Mission in Kyoto, Japan where he served for fifteen years. During this time he served in various parishes in the Kyoto area. After this period, he returned to the United States, received permission to join the Air Force Chaplain Corps and served on Active Duty from 1963 until 1971 in Montana, Michigan, Japan, Turkey and Germany. After completing this Active Duty military service, he became a member of the Air Force Reserves until 1987. Father Prendergast was assigned to the Hawaii Region in November 1971. He served there in various parishes, both as Assistant Pastor and Pastor. At the same time, he was attached to Hickam AFB as a Reserve Chaplain until May of 1979. He was then assigned to the Development Department in the United States for one year when the Air Force requested him to join a small group of Chaplains who covered remote bases worldwide on temporary duty assignments. In this way, he served in Iceland, Greenland, the Aleutian Islands, Texas, Sacramento, Japan, North Carolina, the Philippines, South Korea, England, Germany and many other places.
In 1983, the Command Chaplain of the Department of the Air Force, Chaplain, Colonel Robert Hendricks wrote the Superior General: "We are most grateful to you for sharing Chaplain Prendergast with us. He is making a very significant contribution to the military within the Tactical Air Command. His duties enhance an already effective ministry to Air Force personnel."
During this time of temporary duty assignments with the Air Force, Father Prendergast Wrote to the Superior General in May 1985: "This ministry of mine is most unique and I am most grateful to my superiors for the privilege of serving the Lord in His far4rung vineyard around the world. I really love this type of ministry where I am there for only a short time (my tours range from one-month to three-months) and maybe I can uplift, stimulate or inspire the people in their oftentimes monotonous jobs at remote stations."
Father Prendergast retired from the Chaplain Corps of the U.S. Air Force on his birthday, June 26, 1987, with the rank of Chaplain, Colonel. Together with other retirees, he was honored with a parade and a private ceremony in which the Meritorious Service Medal was awarded. On the following Sunday, June 28th, he celebrated High Mass and bade farewell to the local Air Force parish at his home base, Homestead AFB in South Florida, thus ending a long and distinguished career as an Air Force Chaplain.
After his retirement from the military, Father Prendergast took up residence in West Palm Beach, Florida, where he assisted the Director of the Surplus Food Program for Palm Beach County in distributing food each month to 10,000 needy families at fifteen sites within a radius of forty miles. At the same time, he worked on a Board which was working to establish a Food Bank which could supply the relief agencies and thus reach many more needy, low-income families. He visited Homestead AFB monthly, where he assisted with religious services and counseling.
From June, 1992 until June, 1993, he served as Associate Pastor in the parish of St. Elizabeth Ann Seton in Palm Coast, Florida. At the beginning of his work there, he applied for formal retirement from active Society assignment and requested assignment to the Society's Special Society Unit. This assignment to the Special Society Unit was formalized by the Superior General on July 15, 1992. After retirement, Father Prendergast continued to help out in various parishes in Central Florida.
Wake Services were held on Friday, June 14, 1995 at Maryknoll Center, New York, first at St. Teresa's Residence Chapel at 7:00 p.m. and then at Our Lady Queen of Apostles Chapel at 7:30 p.m. where Fr. Fidelis Goodman presided. Mass of Christian Burial was concelebrated on Saturday, June 15th at 11:00 a.m. in Queen of Apostles Chapel. Fr. Joseph McGahren was Principal Celebrant and Homilist. Interment followed at Maryknoll Center Cemetery with Fr. Leo Sommer officiating at the graveside service.