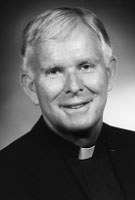 Father Thomas J. Shea, MM
Born: December 11, 1940
Ordained: June 10, 1967
Died: April 17, 2002
Father Thomas Shea died in a Nairobi Hospital in the early morning of April 17, 2002. He was 61 years old and a Maryknoll priest for 34 years.
Thomas Joseph Shea was born on December 11, 1940, in Cambridge, Massachusetts, son of Thomas J. and Mary Mahoney Shea. He attended St. Kevin Parochial School in Dorchester and graduated in June of 1958 from Cathedral High School in Boston, Massachusetts. Of Canadian background, he became an accomplished organist during his high school years, having been taught by the Sisters of Charity of Halifax, Nova Scotia through the Royal Conservatory, Toronto. While in high school, Thomas applied to Maryknoll College, Glen Ellyn, Illinois, and entered there on September 4, 1958. At the time of his application to the Society he wrote about why he wanted to be a Maryknoll Missioner – "I have often read the little Maryknoll Magazine, and gradually from reading the stories of many missioners, I wanted to be one of them. I always wanted to go overseas and teach the word of God. I feel that I could please God more if I became a foreign missioner. I know that mission work in a remote area is not easy, but I feel I would be doing something extra for God."
Thomas received his Bachelor of Arts Degree in Philosophy in June of 1962. At Maryknoll Seminary in New York he received his Bachelor of Divinity Degree in 1966 and his Master of Religious Education in 1967. He also took summer courses at Manhattanville School of Music in New York and the University of Windsor, in Ontario, Canada. He was ordained a Maryknoll priest on June 10, 1967.
After ordination, Father Shea was assigned to the Maryknoll Mission Region in Tanzania, East Africa. After Kisukuma language studies he was appointed assistant pastor for a short time in the Mwamapalala mission, and then was moved as assistant pastor to the St. Theresa Parish in Wira, in the Diocese of Shinyanga. He became pastor of the parish in 1970. In 1981 at the age of 80 Father Shea's mother came to Africa and spent some time at the parish to the delight of the Christians who could see where "Padri Thomas came from" as they put it!
Father Shea spent most of his mission career in this parish of over 5,000 parishioners among the 80,000 people of Wira. Wira is about the size of Rhode Island with 35 out-stations ranging from 6 to 50 miles from the parish center. His ministry, while pastoral and sacramental, was basically missionary out-reach to traditionalists and catechumens preparing for Baptism. He expanded the physical plant into a center for conferences and retreats for priests and lay people. It has become a major center for priestly retreats for both Maryknollers and diocesan personnel. He helped in the Diocesan Chancery Office and in procuration work for the Diocese and was involved in programs for the special year of formation for diocesan seminarians.
In May 1994, Father Shea was assigned to the U.S. Region and appointed assistant Administrator of St. Teresa's Residence. He returned to Tanzania in April 1995 and for a period of 7 months served in Bunda Parish in the Diocese of Musoma. Following a period of Sabbatical studies in the United States, Father Shea returned to his beloved Shinyanga Diocese and was appointed Administrator of Nindo Catholic Church, an outstation of the Shinyanga Town Parish, where he remained until the time of his death. Upon his return he sent a letter to the Superior General on April 20, 1995 in which he wrote, "I am now in Bunda, Tanzania with two Apostles of Jesus priests. Bishop Sekwa gave me a warm welcome. Indeed my time at Maryknoll on service was short and many things happened regarding my health but God also has been very good to me. I am so glad to be back in Tanzania." At the time of his death, Father Shea was an Assistant to the Regional Superior of the Africa Region and in that capacity served as the District Coordinator for Shinyanga.
Wake services were in Nairobi, Kenya on April 21, 2002 and on April 22, 2002 in the Shinyanga Cathedral. Mass of Christian Burial was concelebrated on April 23, 2002 in the Shinyanga Cathedral at 10:00 a.m. Bishop Aloysius Balina was Principal Celebrant and homilist. Burial followed on the Cathedral property. A memorial service was held on May 2, 2002 at Maryknoll, New York with Father Jeremiah Burr as Principal Celebrant and Father William Tokus, homilist.