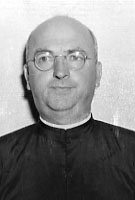 Father Thomas N. Quirk, MM
Born: June 6, 1904
Ordained: January 26, 1930
Died: November 23, 1979
Father Thomas N. Quirk died on November 23, 1979 at St. Teresa's. He had been doing poorly for some time and lately his condition had worsened.
Born in Portsmouth, New Hampshire on June 6, 1904, son of David F. Quirk and Briget Morrissey, both from Ireland and now deceased, Thomas attended grade and high school in Portsmouth. After graduating from Boston College he entered Maryknoll in 1926. Ordained January 26, 1930, he was assigned to Fushun, Manchuria. He was repatriated from there in 1943 and served as Local Superior at the Center until 1946 when he returned to the Orient. He served temporarily in Kweilin but had to return to the U.S. in 1951 because of sickness. His health improved, however, and he was named the first Society Superior of Musoma,  Africa where he remained until 1956. Then he returned to Taiwan.
Father Quirk was a steady, quiet missioner, one who got the job done. Dedicated, conscientious and gentle, he never wished to disturb his fellow missioners. These characteristics were observed in him from his first days in Maryknoll and through all his life. In his vocation, he was deeply conscious of God's great gift and, at the same time, of his own great unworthiness.
In 1973 Father Tom became a member of the Special Society Unit and continued to live in Taiwan. Increasingly poor health caused him to return to the States in 1976. After a long illness, he quietly gave up his soul to God. He would have celebrated his 50th Anniversary of Ordination on January 26, 1980. While the Society regrets that he will not be with his classmates at Maryknoll for that celebration, all rejoice that he will celebrate his jubilee in Heaven and be with us in spirit.
The funeral was held on November 26, with Bishop John W. Comber as Principal Celebrant, and Bishop Edward A. McGurkin as Homilist. Burial followed in Maryknoll Cemetery at the Center.