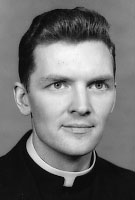 Father Thomas P. Fox, MM
Born: December 11, 1928
Ordained: June 9, 1956
Died: April 3, 2006
Father Thomas P. Fox died at St. Teresa's Residence, Maryknoll, New York on April 3,2006. He was 77 years old and a Maryknoll priest for 49 years.
Thomas Peter Fox was born on December 11, 1928, in The Bronx, New York, to Thomas and Mary McCormack Fox. He had three sisters and two brothers. He attended Our Lady of Victory Parish School for six years and Saint Anthony of Padua Parish School for two years. It was at Saint Anthony's that his seventh grade teacher, Sister Mary Gerard Gebler, S.C.C., a Sister of Christian Charity of Mendham, New Jersey, suggested that he should consider being a priest. The Field Afar magazine inspired him to apply to Maryknoll. The Sisters, the four priests of the parish and the Society members at the New York City Maryknoll house encouraged his vocation. He attended Cardinal Hayes High School for two years and entered Maryknoll Apostolic College (the Venard) on September 5, 1945. He received a Bachelor of Arts degree in Philosophy from Maryknoll College, Glen Ellyn, Illinois; an S.T.B. in Theology in 1955 and an M.R.E. in Religious Education in 1956, both from Maryknoll Seminary, New York. Father Fox was ordained at Maryknoll, New York on June 9, 1956 by Francis Cardinal Spellman.
After ordination, Father Fox was assigned to the Maryknoll Mission in Guatemala. Upon completion of language school in Huehuetenango he was assigned, in quick succession, to Santa Ana, Malacatancito; Inmaculada Concepcion, Huehuetenango; and Nuestra Senora de Candelaria, Chiantla, all of them in the Diocese of San Marcos (later the Diocese of Huehuetenango). In 1958 he was assigned as the Econome with residence in the Maryknoll House in Huehuetenango.
In 1959 Father Fox was assigned as Rector of the Chapel of Las Beates de Belon. At that time it was the chapel for the American colony in Guatemala and the Guatemala City residence for Maryknollers. He returned to Huehuetenango to be Pastor of San Sebastian Parish, San Sebastian, Huehuetenango in 1960.
In 1964 Father Fox was transferred to Santa Maria de la Asuncion Parish, Colotenango. It was here that he founded a consumer cooperative, a credit union and the bilingual school for Indian children. The Education Ministry approved the parish school as an experimental school with Main, the language of the Indians, as the language of the school and Spanish as a Second Language. There was permission to experiment with the program for the rural and Indian environment. At the time it was considered as experimental and now it is the official type of education in the public school system for monolingual dialect speaking Indians.
Father Fox was then transferred to San Agustan Parish, Sumpango in the Archdiocese of Guatemala City in 1974. On February 4, 1976 an earthquake destroyed the entire town with four hundred dead, one thousand five hundred injured and twenty thousand people without a home. One of the hardest hit areas of Guatemala was the Chimaltenango Valley and Sumpango is at the end of the valley. On the national level a very conservative estimate of the damage was twenty-five thousand dead, seventy-five thousand injured and more than a million homeless. Father Fox was active in the reconstruction of Sumpango. He built a large, modem parish hall which was the temporary church and a parish school for girls, a group marginalized in Sumpango.
At the end of 1983, Father Fox was transferred to Guatemala City, where he established the new parish of Santa Maria, at the northern edge of Guatemala City. He continued to work in this parish until late 2002, when he returned to the United States and the Society Center. In July 2004, he was assigned to the Retirement Community and in August 2005, moved to St. Teresa's Residence. Father Fox spent all of his missionary years serving the people and Church in Guatemala. He suffered many times for this work. At one time in the 1980s, the government, in their persecution of the Church, tried to expel him without success, from the country.
Wake services were held at 4:30 p.m. on April 6, 2006 at St. Teresa's and at 7:30 p.m. in Queen of Apostles Chapel at Maryknoll Center where Father John Ruessmann officiated and Father William Frazier read the biography. Mass of Christian Burial was concelebrated in Queen of Apostles Chapel on April 7, 2006 at 11:00 a.m. Father Joseph La Mar was Principal Celebrant and homilist. Burial followed in Maryknoll Society Cemetery with Father Francis McGourn conducting the graveside service.