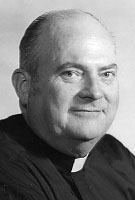 Father Thomas P. Golden, MM
Born: December 3, 1920
Ordained: June 9, 1951
Died: June 2, 2007
Father Thomas P. Golden died at St. Teresa's Residence on June 2, 2007. He was 86 years old and would have celebrated his 56th anniversary as a Maryknoll priest on June 9, 2007.
Thomas Peter Golden was born on December 3, 1920 in New York City, son of Peter J. Golden and Anne McDonald. He attended Our Lady of Mercy Grade School where the Dominican Sisters encouraged him to consider the priesthood. He graduated from Regis High School in New York City in 1939 and entered Fordham University where he graduated in 1943 with a Bachelor of Arts degree. In June 1943, he was drafted into the U.S. Air Corps and served in the Caribbean area as a Weather Specialist. After his discharged in March 1946, he worked at New York University before entering the Maryknoll Novitiate in Bedford, Massachusetts in July 1946. Father Golden was ordained a priest at Maryknoll Seminary in New York on June 9, 1951, and immediately assigned to the Maryknoll Mission Region in Chile, South America.
Father Golden served for 22 years in Chile during his first assignment to the missions. His parochial ministry started in San Juan de Dios Parish in Santiago, for a year and a half, and then transferred to the rural parish of Pemuco, Nuble. He said it was a great place to learn the language and culture of Chile and he enjoyed every day of the ministry. "Being and working with the poor in Chile helps me understand the path of the Lord in my life and my place in it as I plod along, knowing that this is where I belong", Father Golden once wrote of his work with the Chilean people.
On April 30, 1973 Father Golden was assigned to the Development Department and in September 1974, appointed Director and Local Superior of the Cleveland Development House. In May 1977 he transferred to New York City and in September 1985 was appointed Director of the Los Angeles Development House, serving in that area until August 1988.
In June 1990 Father Golden was reassigned to the Chile Region and worked at the Center House in Santiago, helping out in nearby parishes on weekends. During this time, he developed a keen interest in Maryknoll Spirituality. He was assigned to the Retirement Community in September 2002 and returned to the Center in December of that year. While at the Center, he assisted at St. Francis' Parish, in Mount Kisco, New York, working with the Spanish members of the parish. He was also an active participant in a Tuesday night scripture group at the Center. Father Golden moved to St. Teresa's Residence in February 2007.
Wake services were held at 4:30 p.m. on June 6, 2007 at St. Teresa's and at 7:30 p.m. in Queen of Apostles Chapel at Maryknoll Center where Father Joseph McGabren officiated and Father Eugene Toland read the biography. Mass of Christian Burial was concelebrated in Queen of Apostles Chapel on June 7, 2007 at 11:00 a.m. Father Ernest Lukaschek was Principal Celebrant and homilist. Burial followed in Maryknoll Society Cemetery with Father John Sivalon conducting the graveside service.