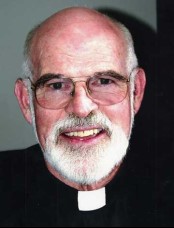 Father Thomas P. Henehan, MM
Born: September 6, 1938
Ordained: June 12, 1965
Died: January 27, 2022
Father Thomas P. Henehan died on January 27, 2022 at the Maryknoll Society Center at Maryknoll, New York. He was 83 years old and a Maryknoll priest for 56 years.
Thomas Patrick Henehan, son of Thomas P. and Rita C. DeVry Henehan, was born in Chicago, Illinois on September 6, 1938. He was the oldest of five children. He attended Our Lady of Lourdes Parochial School in Chicago, and Loyola Academy, Wilmette, Illinois, where he was inducted into the Athletic Hall of Fame, lettering in football, basketball and track. He received a full athletic scholarship to the College of the Holy Cross where he was Co-Captain of the track team and starting line-backer on the football team. He graduated from Holy Cross with a BS in History and Philosophy. He entered Maryknoll on July 25, 1960, received his Bachelor of Divinity degree at Maryknoll Seminary, New York and was ordained a priest on June 12, 1965.
After ordination Father Henehan served for six years in the Development Department, first in Houston, Texas, then as Director and Local Superior in the New Orleans House, and finally as the East Coast Area Director in the Development Department.
For more than 40 years, Fr. Henehan dedicated his life to serving the poor, disenfranchised, and indigenous in Latin America. In July of 1971 Father Henehan was assigned to the Maryknoll Central America Region, and he served in Guatemala for four years. While working with youth in Guatemala, he served as Head Track Coach of the National Team during 1972. It was a great way to enter into the lives of the local young men and women. Later he left the team to begin a youth center under the Archdiocese of Guatemala City, where he worked until March of 1975 when he was transferred to Maryknoll's Mission Region in Chile, South America.
He served as the elected Chapter Delegate for the Chile Region at the 1978 General Chapter at Maryknoll, New York. After the Chapter, Father Henehan returned to Chile and was appointed 2nd Consultor to the Regional Superior. At that time he was asked by the local Bishop to begin a formation center for lay leaders of the northern sector of Santiago. The Center for Pastoral Reflection was initiated in 1979 and has developed into other formation programs that still exist today. Thousands of lay leaders were formed and accompanied by the team of professionals and experienced teachers who staffed the programs.
On September 13, 1988 Father Henehan was appointed Assistant Regional Superior for the Chile Region and a year later was appointed Regional Superior of the Chile Region for a three-year term, a post to which he was re-appointed on October 1, 1992. After the Peru and Chile Regions joined together to form the Andean Region, on January 1, 1994 Father Henehan was appointed the Regional Superior of the new Region. Later that year he was elected the first Official Delegate of the Andean Region to the Tenth General Chapter.
During the Tenth General Chapter, Father Henehan was elected 3rd Assistant General for a six-year term. He served on the General Council in that position until November 2002. In January 2003, he traveled to China to teach, but after a few months had to return to the United States because of the outbreak of SARS in China. In October 2003, Father Henehan was assigned to the Latin America Region to live and work among the Aymara Indigenous in Cochabamba, Bolivia, where he directed a mission formation team and was a consultant to the Archdiocesan mission office.
In 2003 he became a member of the Maryknoll Mission Center in Latin America (CMMAL) located in Cochabamba, Bolivia. In that capacity, he collaborated with the Maryknoll Hispanic Outreach in the U.S. (Discipulos Misioneros Maryknoll), working from Chicago, Illinois, in its effort to partner with various mission-oriented organizations working with the Hispanic Community. One of the projects was a four-year mission formation program (2012-2016) in partnership with the National Hispanic Pastoral Institute, Fe y Vida. He served two terms as a member of the Board of Fe y Vida.
Father Henehan divided his time between Chicago and Cochabamba, Bolivia, where he spear-headed this mission insertion-formation project. Father Henehan was assigned to Senior Missioner Status in January 2014 and in 2015, he was assigned to the United States Region. Father Henehan continued to help with Maryknoll's outreach to the Hispanic Community in the United States. He continued to reside in Chicago until illness necessitated his return to the Maryknoll Center in November 2021.
Father Henehan was a recipient of the College of the Holy Cross (Worcester, MA) In Hoc Signo Award, their General Alumni Association's highest honor. He will be remembered as a gentle, generous and compassionate man who loved family, friends and his faith. Athletics always were important to Father Tom and he was passionate about all sports, but especially golf, and was fortunate to have played courses around the world. He never hesitated to accept a challenge whether in mission, in athletics or in life.
When asked what he would like people to understand about the mission vocation, Father Henehan said, "Mission is so much a part of all persons who are baptized. It sees all people and all of creation as inter-connected, inter-related and inter-dependent. It perceives the diversity in the world not as a problem, but an expression of the Father, Son and Holy Spirit incarnate in creation."
A Memorial Mass was held on Wednesday, February 9, 2022 at 11 a.m. in the Queen of Apostles Chapel, Maryknoll, New York. Father Ray Finch was Principal Celebrant and Father Eugene Toland homilist. Father Michael Snyder read the biography and Father James Hilgeman read the Oath.
A Funeral Mass is planned for the spring at Maryknoll, New York. His ashes will be placed in the Maryknoll Society Columbarium at that time.