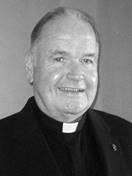 Father Thomas P. McDonnell, MM
Born: January 18, 1937
Ordained: June 12, 1965
Died: July 30, 2022
Father Thomas P. McDonnell died on July 30, 2022 in the Assisted Living Unit at Maryknoll, New York.  He was 85 years old and a Maryknoll priest for 57 years.
Thomas Patrick McDonnell was born on January 18, 1937, in Brooklyn, New York, son of Martin and Margaret Touhey McDonnell. He was the youngest of five children, having two brothers and two sisters. He attended St. Matthew Parochial School and graduated from St. Augustine High School, Brooklyn. After graduation from high school, he attended St. John's University for one year, majoring in Business Administration. While at St. John's, he worked for the Arabian American Oil Company (ARAMCO) and "it was there that I first became fascinated with peoples of other cultures and other ways of being in the world. Maryknoll had always been a household word, and our Irish parents always made sacrifices for the missions and always encouraged us to do the same." Thomas entered Maryknoll Junior Seminary (Venard), Clarks Summit, Pennsylvania, on September 6, 1956. He earned his Bachelor of Arts degree in Philosophy on June 7, 1960, at Maryknoll College, Glen Ellyn, Illinois. At Maryknoll Seminary, New York, he received his Bachelor of Divinity and Master of Religious Education degrees and was ordained a priest on June 12, 1965.
After ordination, Father McDonnell was assigned to Maryknoll's Tanzania Mission Region to work in the Shinyanga Diocese. His first appointment was to Chamugasa, a small mission parish on Lake Victoria whose out-stations stretched along the boundaries of the Serengeti National Park. It was incredibly beautiful and equally harsh. Father McDonnell wrote: "It was there that I experienced all the great first fruits of missionary priesthood; first experience of the Good News as it came to people who had never heard it; first appreciation of what conversion called forth in all of us; first wrestling match with death; first joys and sadness that "went beyond the telling of it." As a result of his pastoral experience, he became determined to get further training in clinical pastoral education. When on home leave in 1969, he took part in a Pastoral Counseling Program in Connecticut.  Upon his return to Africa that same year, he was appointed 4th Consultor for the Tanzania Region.
On July 7, 1972, Father McDonnell was recalled to the United States to serve in the San Francisco Development House for three years. Prior to returning to Africa he enrolled in the Pastoral Counseling Program and obtained a Doctor of Ministry degree at the New York Theological Seminary and a Graduate Certificate in Pastoral Psychotherapy from the Blanton-Peale Graduate Institute. He returned to Africa in July 1980 and took up work in Nairobi, Kenya. On July 26, 1984 he was again recalled to the United States and assigned to the Center for Mission Studies at Maryknoll, New York.
On February 24, 1987, Father McDonnell was again assigned to Maryknoll's Mission Region in Kenya. In 1990, he continued his education by taking part in the healing programs at Memorial Sloan-Kettering Cancer Center in Manhattan and in the Incarnation Children's Center, seeking out experiences that would enable people to respond to the phenomenon of AIDS in Africa, as well as in the United States. During this period he also did counseling work at Memorial Sloan Kettering, working with terminal AIDS and cancer patients.
On March 1, 1987, Father McDonnell was re-assigned to Kenya, where he worked for eight years. Among his many duties he worked with a group called People for Peace in Africa, and in 1995 he worked with Catholic Relief Services doing post-trauma therapy in Kigali, Rwanda.
Father McDonnell returned to the United States in August 1995, working for a time at Memorial Sloan Kettering before being appointed Director of St. Teresa's Residence in February 1998, a position he held until January 1, 2004 when, together with Father Thomas Ahearn, he was appointed as co-leader of the Pastoral Care response to residents of St. Teresa's.
In July 2004, Father McDonnell was appointed Assistant Director for the Department of Society Member Services with responsibility for the pastoral care of Society members, a position he held for two years. From April 2003 to February 2009, he served as Assistant Superior of the Retirement Community, and in March 2009, he was appointed Superior for a three-year term. On September 12, 2007, he was elected Second Official Delegate for the Retirement Community to the Twelfth General Chapter.
Father McDonnell was assigned to the Senior Missioner Community in February 2008 and continued his residence at the Society Center until November 2013 when he moved to Mission St. Teresa's. He was appointed to the Pastoral Visitors Team as well as the Prayer Partners Team at Mission St. Teresa's, in 2016. Father McDonnell returned to reside at the Society Center in the Assisted Living Unit in 2018.
Wake services were held on August 3, 2022 in the Holy Spirit Chapel and the Queen of Apostles Chapel at the Maryknoll Society Center. Mass of Christian Burial followed at 11:00 a.m. and was concelebrated in the Queen of Apostles Chapel. Father Edward Davis was the Celebrant and homilist. Father David Pfeiffer read the biography and Father Michael Kirwen read the Oath. Burial followed in the Maryknoll Society Cemetery, with Father Alfonso Kim presiding at the graveside prayers.