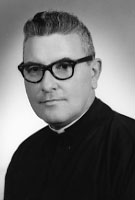 Father Thomas P. O'Rourke, MM
Born: September 7, 1915
Ordained: June 22, 1941
Died: January 21, 2000
Father Thomas O'Rourke died at St. Teresa's Residence on January 21, 2000. He was 84 years old and a Maryknoll priest for 58 years.
Father O'Rourke was born in New York City on September 7, 1915, son of Thomas O'Rourke and Ellen Walsh. He had three brothers, two of whom were Brothers of the Christian Schools. After graduation from Holy Name Grammar School, he immediately entered Maryknoll's Junior Seminary (Venard), Clarks Summit, Pennsylvania. In September 1937 Thomas wrote about his call to Maryknoll and Mission – "The call to Maryknoll had nothing of the unexpected about it. When I was in the sixth grade, my teacher Brother Michael, asked each of us to write what we intended to be. I wrote down I wanted to be a Maryknoll Missioner. On my thirteenth birthday I entered the Venard. To express what it meant to enter the Venard is difficult. Perhaps it is easier to insinuate – I think I shook hands with everyone about three or four times. It was Maryknoll hospitality with all the stops out. I could not repay the Venard for all it has done for me. For it made me a Maryknoller."
After ordination to the priesthood at Maryknoll, New York on June 22, 1941, Fr. O'Rourke was assigned to the Maryknoll mission in Wuchow, South China. Due to World War II conditions he was unable to secure a passport to China, and he spent many months studying Japanese language at Maryknoll Junior Seminary, Los Altos, California. Early in 1942 he worked in St. Clement's Parish in Romeo, Michigan, and in the summer of 1942 he served in St. Stephen's Parish in Fort Huron as a curate. On January 1, 1943 he was assigned to a new and very difficult Maryknoll Mission in Tepic, Mexico, among the mountain Indian people. He remained there until the work was turned over to the Mexican clergy in March 1948.
Father O'Rourke was then transferred to the Maryknoll Mission group in Yucatan, and after five months he was assigned to aid in the establishment of a seminary for the newly founded Mexican Foreign Mission Society, known as the Guadalupe Missioners, in Guadalupe, Mexico. He put himself wholeheartedly into the seminary work for three years and then returned to his mission work in Yucatan with the Quintana Roo group. He was elected Delegate for the Mexico group for the 1956 General Chapter. After the Chapter he was elected Regional Superior of the Mexico Region from October 1, 1956 to 1961. In 1960 Father O'Rourke worked on the Spanish version of the St. John's Catechism. Next, Father O'Rourke moved to Mexico City and served as pastor and associate pastor for many years in the Parroquia de la Resurrecion del Sefior in San Juan de Aragon. He also helped in the production of an 8mm movie of Maryknoll in Mexico. During his years of work in Mexico City, Father O'Rourke worked with the Guadalupe Missioners on their publication, Almas. Later in 1983, he worked with them in Los Angeles, California on the short-lived English version entitled Guadalupe Missioners. He served in Mexico City for many years in parochial work.
Father O'Rourke was assigned to the Special Society Unit on March 1, 1983 and continued working in Los Angeles until June 1983, when he moved to St. Teresa's Residence. In December 1983, Father O'Rourke was able to return to Mexico City until he suffered an injury in October 1984 that necessitated his return to St. Teresa's. In his assignment letter to the Special Society Unit the Superior General wrote "I would like to take this occasion, Father Tom, to express my own, and the Society's gratitude to you for the many ways you have served Maryknoll, mission and the people of Mexico over the many years of your dedicated and faithful ministry."
Wake services were held at 7:00 p.m. on January 24, 2000 at St. Teresa's, and at 7:30 p.m. at Queen of Apostles Chapel at Maryknoll Center where Father Walter Winrich officiated and Brother Donald Miriani read the biography letter. Mass of Christian Burial was concelebrated at Queen of Apostles Chapel on January 25. 2000 at 11:00 a.m. Father Edward Walck was Principal Celebrant and Father Michael Duggan homilist. Burial followed at Maryknoll Center Cemetery with Brother Wayne Fitzpatrick conducting the graveside service.