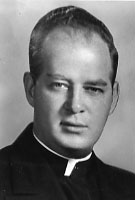 Father Thomas P. Tennissen, MM
Born: March 17, 1918
Ordained: June 12, 1948
Died: February 7, 1984
In commenting on the Maryknoll spirit, Bishop James E. Walsh wrote: "Charity must grow. It must expand in all its heights and depths, until it fills every heart. It must flood out and sweep away the small and selfish, leaving nothing but transcendent love for God, for all persons and for each other."
Father Thomas Tennissen cultivated a spirit of generosity during his life as a Maryknoller. He was interested in people. He was willing to share his time with others. He would take on additional tasks when no one else was available. He was always ready to help others. He was a considerate and gentle host.
Father Tennissen had suffered with health problems since since 1950. Even though he courageously endeavored to carry out his missionary vocation, his continued illness caused him to retire to Los Altos in 1978. In 1983 he was transferred to St. Teresa's. On the evening of February 7th he passed away in Phelps Memorial Hospital.
A member of a rather large family, he was born to Anthony and Beatrice Tennissen in Akron, Ohio on March 17, 1918. His father had immigrated from Holland and his mother from Ireland. At the age of twenty-one he entered first year college at the Venard. He was ordained on June 12, 1948. After ordination he was assigned to do promotion work at Bedford. In 1950 he was transferred to the Venard Faculty and remained there, with two years helping out on the Lakewood Faculty, until he was assigned to Hawaii in 1959. During this period of his life he received a Master of Arts Degree in English from Notre Dame University and served as Procurator and Vice-Rector at the Venard. His assignment to Hawaii lasted until 1978. In 1971 he was appointed as Second Consultor to the Regional Superior and in 1972 he was elected as a Chapter Delegate. He was assigned to the Special Society Unit in 1978.
Father Tennissen was always a good community man. He was always cooperative and possessed a genuine Maryknoll spirit. He worked diligently at whatever job he had. He was self-reliant, practical and generous, with a touch of an artistic ability in his life.
The wake took place on Feb. 9, with Father Edward Manning officiating and Biography read by Father Arthur Brown. The Mass of Christian Burial was held on the 10th with Principal Concelebrant Father Leo Sommer and Homily by Father Halbert. Burial was in the Center Cemetery.
Generosity and charity have always been the spirit of Maryknoll. We are grateful for this Maryknoll priest who exemplified these two qualities during his lifetime. May he be with God.