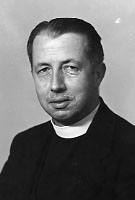 Father Thomas R. Donovan, MM
Born: November 2, 1897
Ordained: January 26, 1930
Died: July 26, 1948
Thomas R. Donovan was one of three brothers whom God called to Maryknoll from a large family in McKeesport, Pennsylvania. Thomas was born on November 2, 1897. He entered the Society in September, 1921 and was ordained to the priesthood on January 26, 1930.
He was assigned to South China. Before leaving, he stopped at the Venard to see his brother Father Gerard whose mission assignment had been cancelled two years previously on account of illness. As the brothers bade each other goodbye, Fr. Jerry said: "I envy you, Father Tom."
Father Tom labored among the Hakka people in the Kaying Mission. He found it very difficult to get a satisfactory command of the language but he never became discouraged.
His contemporaries in the seminary and on the missions tell us that Father Donovan was conscientious and obedient, possessed of a gentle kindly charm. His generosity was gracious and unembarrassing. One who knew him well has remarked: "He could do you a good turn without making you feel the least bit uneasy." Father was blessed with a true happiness. This happiness had a spiritual foundation and was best shown in his constant good humor.
On July 25, 1948 Father Tom was on a promotion assignment driving through Cambridge, Ohio when he met with a fatal accident.
A Solemn Funeral Mass was celebrated on July 29, 1948 and burial followed at Maryknoll.