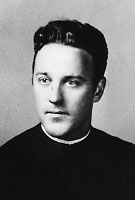 Father Thomas R. Wellinghoff, MM
Born: April 3, 1917
Ordained: June 11, 1944
Died: November 20, 1949
Thomas Robert Wellinghoff was born in Cincinnati, Ohio on April 3, 1917. Having spent three years at the junior seminary in Cincinnati, he went to the Venard before going to the Novitiate, and later to the major seminary at the Center.
His classmates thought highly of Thomas, commenting that he was "a good mixer, at home with anybody, anywhere." Moreover, he ranked high in his class and displayed an active interest and facility in all sports.
He was ordained on June 11, 1944 and, six weeks later, taking leave of his family and friends, headed for his mission assignment in Chile. After language school he spent a year and a half as curate in Talca. Following that assignment he was stationed at the Colegio in Molina. There he was very popular with the boys, spending a good deal of time with them and teaching them the sports which he could play well.
After two years in Molina, Father Wellinghoff was transferred to the mission of Curepto, where he was made pastor. He was fond of his work as a missioner and had a fine way with the people, young and old, men and women. He had developed into an excellent preacher and had a very good grasp of the language. Medical work appealed to him and he had plans for taking a course in medicine in 1951 during his year of furlough.
Father was in good health in 1948, so that the news of his sudden death came with great surprise and sorrow. He died on November 20, 1949 at the age of thirty-two and was buried among his beloved Chilenos.
Father Wellinghoff served only five years on the missions of Chile. However, an ex-Communist wrote of him: "A few more men like Father Tom in all the little towns of Chile would help more Communists change their minds."